I pre-ordered a copy of Kit Rocha's Deal with the Devil.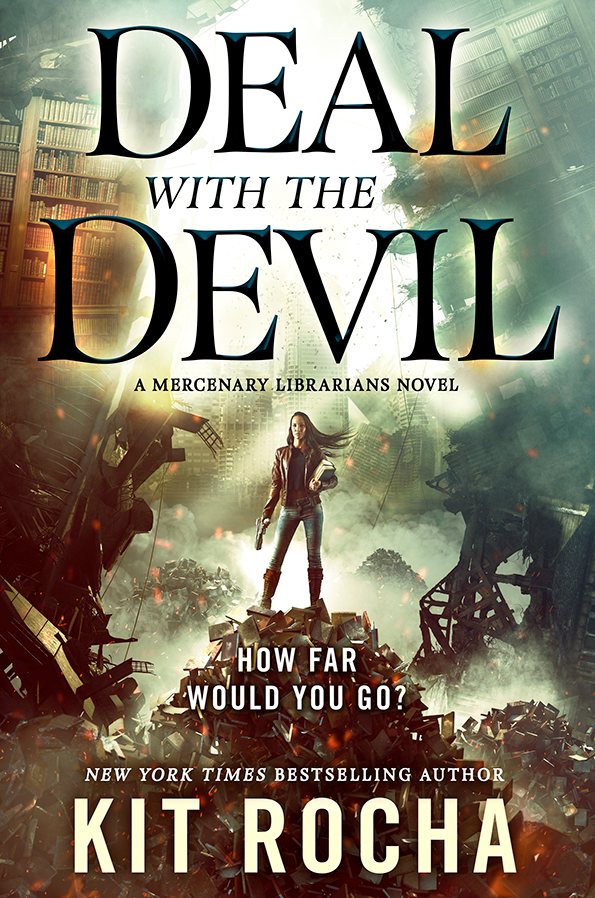 Description from Goodreads:
Nina is an information broker with a mission–she and her team of mercenary librarians use their knowledge to save the hopeless in a crumbling America.

Knox is the bitter, battle-weary captain of the Silver Devils. His squad of supersoldiers went AWOL to avoid slaughtering innocents, and now he's fighting to survive.

They're on a deadly collision course, and the passion that flares between them only makes it more dangerous. They could burn down the world, destroying each other in the process…

Or they could do the impossible: team up.

This is the first book in a near-future science fiction series with elements of romance.
Review:
I really quite enjoyed this. I liked the characters, the diversity, the world, the humor, and the plot (though the twists at the end were easily guessable). I liked that you get a little of everyone's POV, without head-hopping and that, while there is one main couple, there are also hints of side couples to come. My only real complaint is that, for a series called Mercenary Librarians, books/libraries/librarians play essentially no role. Maybe they will in future books, but they don't here and I was super disappointed by that. All in all, however, I can't wait for more.