I received an ARC copy of Wild Sky, by Zaya Feli, through A Novel Take.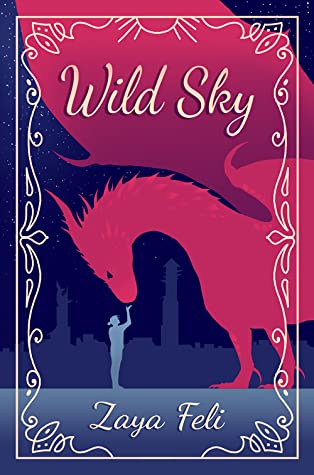 Description from Goodreads:
Tauran Darrica has been retired from the Valreus Sky Guard for four years following the Battle of the Broken Wings that resulted in the death of his dragon. Now, all Tauran wants to do is spend his days forgetting the past and gambling his way to an unsteady income.

So when his old general from the Sky Guard hunts Tauran down to request his help with staving off the increasingly aggressive wild dragon population, Tauran refuses. But a fire ruins his rented room and leaves him without a place to stay, and Tauran finds himself on the road to Valreus, after all.

Tauran is determined to stay as far away from dragons as he can get, but a starry-eyed young man from Sharoani, land of the wild dragons, might just ruin his plans.

Kalai Ro-Ani has spent his life watching the stars, knowing he could never reach them. With his wild dragon Arrow, he sets out for the city of Valreus in the hope of building himself a better future than he could have stuck at the foot of the Kel Visal dragon temples.

But nobody told Kalai that only the Sky Guard is allowed to own dragons, so when Arrow kills a guard in Kalai's defense, it looks like his adventure might be over before it can begin. But a chance encounter at the old Valreus archive offers Kalai the future he'd been hoping for. In the span of a single day, he has a home, a job, and a purpose.

In Valreus, something much bigger falls into his lap – along with a tall and striking Valrean man with a rather strange disposition.
Review:
I generally enjoyed this a lot. I thought the pacing was a little inconsistent, making it feel overly long at times, the plot progression depended on too many coincidences, and that the two main characters were a little too perfect, especially in their dealing with one another. However, outside of that, I loved the dragons; thought the plot engaging, liked the characters and world, and appreciated the slow-burn romance. I'd be more than happy to read more books by Feli, be it in this series or another.