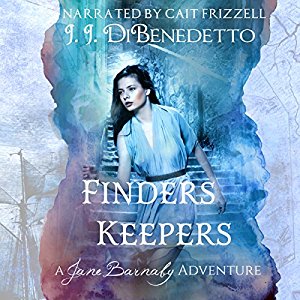 J. J. DiBenedetto sent me an audible copy of his novel Finders Keepers.
Description from Goodreads:
It should have been a simple job. All archaeology student Jane Barnaby had to do was pick up a box her professor needed and deliver it to him at his dig site, along with his new car. Yes, his office was in Oxfordshire, and his dig site was in Spain, a trip of 1,400 miles across three countries and two bodies of water. Still, it should have been simple. 
And it was, until Jane discovered she picked up the wrong box by mistake. Not the one with boring pottery samples, but instead the one with priceless ancient Egyptian artifacts. The one that a team of international art thieves is after. 
Now she's chasing – and being chased by – the thieves. And she's picked up a pair of passengers who claim they can help her outwit them, get her professor's pottery back and return the artifacts to their rightful owner. If only she could figure out which one of them is working with the thieves and which one she can trust in this high-stakes game of finders keepers.
Review:
This was utterly ridiculous. I won't go so far as to call it bad, but it was just completely unfathomable. I found none of Jane's reactions believable. Further, I didn't believe international art thieves with a 6 million dollar/pound score would be so easily defeated or so plainly unthreatening. Jane never once seemed to really consider that they might be violent. And they weren't, which made them mere cartoon characters. While the author explained why Jane took the actions she took, I couldn't believe for a moment that a woman in her early twenties would do the things she did and have such amazing results.
Further, I was constantly annoyed by the references to Jane's traitorous body and her willingness to trust a man she knew to be lying to her based on how attractive he was. Again, it was beyond belief. Plus, the love triangle fake-out was just annoying.
And there were just so many small things like this. Like her causing a traffic accident while traveling at high speed. This would have been unfailingly deadly in real life, but the reader is supposed to believe she hasn't really hurt anyone.
Maybe a younger reader would have enjoyed the book more than I did. The writing is fine, as is the narration (by Cait Frizzell), but I spent a lot of time listening to the story and rolling my eyes, like "yeah right."