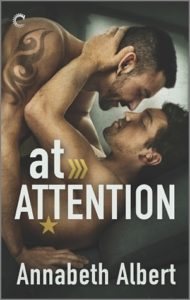 I received a copy at Annabeth Albert's At Attention through Netgalley.
Description from Goodreads:
Lieutenant Apollo Floros can ace tactical training missions, but being a single dad to his twin daughters is more than he can handle. He needs live-in help, and he's lucky a friend's younger brother needs a place to stay. He's surprised to see Dylan all grown up with a college degree…and a college athlete's body. Apollo's widowed heart may still be broken, but Dylan has his blood heating up. 
It's been eight years since the teenage Dylan followed Apollo around like a lovesick puppy, and it's time he showed Lieutenant Hard-to-Please that he's all man now—an adult who's fully capable of choosing responsibility over lust. He can handle Apollo's muscular sex appeal, but Apollo the caring father? Dylan can't afford to fall for that guy. He's determined to hold out for someone who's able to love him back, not someone who only sees him as a kid brother. 
Apollo is shocked by the intensity of his attraction to Dylan. Maybe some no-strings summer fun will bring this former SEAL back to life. But the combination of scorching desire and warm affection is more than he'd expected, and the emotion between them scares him senseless. No fling lasts forever, and Apollo will need to decide what's more important—his past or his future—if he wants to keep Dylan in his life.
Review.
Meh, I keep trying to love contemporary romances and I just find myself bored by them. In this particular case, I found the story predictable and trite. Don't get me wrong, I liked Apollo and Dylan but I didn't love them.
I also liked the twins, but I don't think they were accurate representations of small children. Not once did they throw a tantrum or be anything other than docile and adorable. Similarly, the two men's perfect parenting just felt saccharine and unbelievable. We're all failing at the parent thing by comparison and how am I supposed to relate to that? Honestly, this is my main complaint in most instances in which toddlers are included in romance.
The sex was hot, but there were no surprises (in the sex or the plot). The writing was mostly fine, but there was too much exposition at the end. As if, once the author decided it was time for the happily every after, she had to explain everything. The ending was sweet, but also completely pat. Does every m/m book have to end with a ****? So, all in all, it wasn't bad, but I didn't love it either.