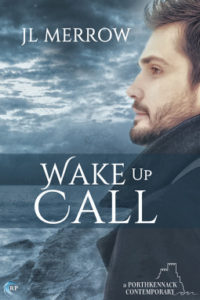 I received a copy of J. L. Merrow's Wake up Call through Netgalley.
Description from Goodreads:
South London mechanic Devan Thompson has gone to Porthkennack to track down someone he's been waiting all his life to know. But Dev's distracted from his quest by Kyle, a broodingly handsome local of only a few months, who's already got a reputation as an alcoholic because of his strange behaviour—including a habit of collapsing in the street.
Kyle Anthony fled to Porthkennack to escape from the ruins of his life. Still raging against his diagnosis of narcolepsy—a condition that's cost him his job as a barrister, his lover, and all chance of normality—the last thing he wants is another relationship that's doomed to fail. But Dev's easy-going acceptance and adaptability, not to mention his good looks, have Kyle breaking all his self-imposed rules.
When disaster strikes Dev's adored little sister, Kyle steps up to the plate, and Dev sees a side of his lover he wasn't prepared for: competent, professional—and way out of Dev's league. With one man determined that they don't have a future, and the other fearing it, life after Porthkennack is starting to look bleak for both of them.
Review:
I thought this was cute, but I won't say I was blown away by it. I've read Merrow's work before and quite enjoyed it (Muscling Through is one of my all time favorite MM novels), so I figure this is just one of those books I liked less than the others. It happens.
While I liked the writing and I enjoyed Dev's regional dialect, I just thought nothing in the book stood out as special. Sure, the author included some heavy topics—chronic illness, adoption, rape, 'the system,' economic disparity, race, etc.—after a while they started to feel little more than plot mechanisms than anything deeply explored or fitting seamlessly into a natural story.
All in all, not a bad book. Again, I did think it was cute. I wouldn't tell anyone not to read it. But it doesn't stand out either.