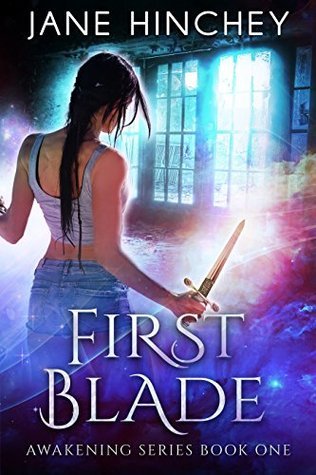 I own an copy of Jane Hinchey's First Blade. However, I'd forgotten that when I borrowed an audio copy from Hoopla.
Description through Goodreads:
Georgia Pearce possesses remarkable psychic abilities. When she discovers an ancient dagger hidden in her workshop, she knows it can only mean one thing. Trouble.
Trouble arrives in the form of Zak Goodwin, an entity more powerful – and definitely sexier – than any she's come across before. However, when a horde of dangerous vampires show up and threaten Georgia and her sister, she has no choice but to ask Zak for help.
Along with a shifter cop, a band of vampire warriors, and her own psychic skills, Georgia sets out to stop the awakening of an immortal vampire who has the power to destroy the world — and discovers that staying alive isn't nearly as dangerous as falling in love. 
Review:
Mechanically this was fine. But there is just literally nothing about it that isn't super cliched. There is zero originality here and it has several of my least favorite PNR occurrences in it. Most notably, the only female vampire is stereotypically sexy and a villain because she wants the hero and has been spurned. This makes me want to scream, especially when female writers fall into this trap. As if women can only be heroines and villainous sex kittens (or rabbits, as she is literally referred to as Jessica Rabbit at one point), no in between. Plus it constantly perpetuates the myths that other women can't be trusted, men are all we care about, and sex is only a weapon or a tool. I expect more and am getting increasingly frustrated and decreasingly patient when authors are too lazy to break out of this BS rut.
Add to that big one (big for me anyhow) the fact that the female main character is a psychic who has one vision in the whole book and the male lead is super skeezy for most of the book. All in all, this is a big fat fail for me.
Having said all that, the narrator did a fine job.