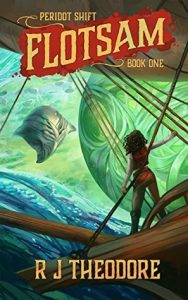 I received a copy of R.J. Theodore's Flotsam
from the publisher.
Description from Goodreads:
A fantastical steampunk first contact novel that ties together high magic, high technology, and bold characters to create a story you won't soon forget.
Captain Talis just wants to keep her airship crew from starving, and maybe scrape up enough cash for some badly needed repairs. When an anonymous client offers a small fortune to root through a pile of atmospheric wreckage, it seems like an easy payday. The job yields an ancient ring, a forbidden secret, and a host of deadly enemies.
Now on the run from cultists with powerful allies, Talis needs to unload the ring as quickly as possible. Her desperate search for a buyer and the fallout from her discovery leads to a planetary battle between a secret society, alien forces, and even the gods themselves.
Talis and her crew have just one desperate chance to make things right before their potential big score destroys them all.
Review:
This wasn't a bad read. I thought the world was really interesting and on the surface the characters seemed to be too. The writing was easily readable and the editing was sound. All in all, I'd recommend it.
However, it did seem overly long, dragging in the middle. I never felt I really got to know the characters, especially the crew and primary antagonist. And the fate of the world was left unresolved in favor of the reader learning the fate of a few.
Lastly, I'm torn about the use of the Xe pronouns. Part of me appreciates a genderless character and the effort it takes to introduce what are likely unfamiliar pronouns to a lot of readers. Another part of me was bothered that the character was presented as so very alien.
I was reminded of an interview I recently read with (I think) David J. Peterson, who has a job of creating fictional languages. The interviewer essentially asked him if he'd ever take an existing, but not well known language, and use it for, say, Elvish. Who would know, the interview joked. Peterson basically rephrased the question as "Are you asking me if I'd ever use someone's culture? No."
There was a real part of me that thought using what is the actual identity of real people to represent, not just a fictional character, but a character presented as so much more alien than any other other character that no one in the book could relate to them, was uncomfortable. How might it feel to people who themselves use Xe to read about that character?
I actually feel a little bad bringing it up, because I see from other reviews that there were earlier issues with the character being genderless and the author and publisher took them into account and improved it. Choosing to go with Xe/Xi, instead of whatever it was before. I guess I just wish they'd made a pronoun up, instead of going with a real world one, for a character that was presented as so very non-human by the other characters in the book. (Keeping in mind none are wholly human, but they have a sense of WE that Scrimshaw is denied.)