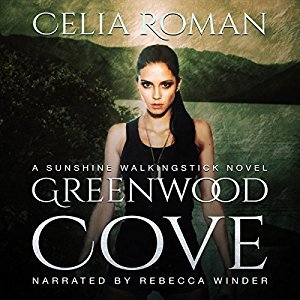 I received an Audible code for a copy of Greenwood Cove, by Celia Roman.
Description from Goodreads:
I had three loves in my life: my daddy, him what my mama killed in cold blood; my son Henry, God rest him; and tall as an oak Riley Treadwell.
I lost all of 'em, one way or t'other, 'til Riley showed up on my stoop with a monster problem and tried to wiggle his way back into my life.
Only, weren't no monster bothering him; was the one bothering his ex-girlfriend what'd stirred up a hornet's nest out on Lake Burton amongst the muckity mucks. Weren't no never mind to me, see? I was fine letting well enough alone, 'cept curiosity got the best of me, and Riley, well. He weren't above using that silver tongue of his to persuade me 'round to his way of doing things. If I'da listened to my gut, maybe I woulda avoided stepping knee deep into somebody else's trouble.
Then again, I ain't never been one to heed a warning when monsters come a-calling.
Review: 
I quite enjoyed this, both the story and the narration of the Audible. I struggled at first with Rebecca Winder's version of a rural accent. It, combined with Roman's phrasing, came across as artificial at times, more of a stereotypical mountain-speak than anything realistic. But I got used to it eventually.
I generally liked this. I liked the characters, the mystery and the romance. But I struggled at times feeling like the romance overpowered everything else and, well, this really doesn't feel like a first book. The characters have a lot of history and a certain amount of background is left unexplained. I kept feeling like there must be a prequel out there somewhere. (There isn't as far as I know.) Some of this feeling probably would have been ameliorated by fleshing some of the plot points out a bit and bringing her whole paranormal investigation into the open earlier. As it was, I wasn't even sure she'd had paranormal cases, outside of her lost son, before the events of the book, until it was finally mentioned toward the end. It felt like yet one more thing readers were just supposed to know already.
All the same, it was a fun read. There was a certain amount of humor and I'd be open to continuing the series.