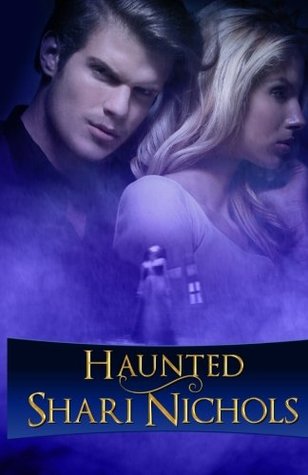 Author Shari Nichols sent me a paperback copy of Haunted.
Description from Goodreads:
When medium Karly Matthews agrees to move into a haunted inn, she's not sure what's more dangerous, the ghost or the sexy innkeeper she tries to resist. She's can't deny the intense rush of desire she feels every time he's near. When she agrees to embark on a no-strings-attached relationship, she finds herself thrust into a world of mind blowing pleasures. Now she must face the aching truths of her past.

Hotel heir Thayne Harper has a laser-like focus on success that doesn't include the help of his family. He's always been the black sheep, living in the shadow of his dead brother. His dreams are put to the test when a supernatural entity threatens to ruin everything. The one bright spot is the woman who intrigues his mind and heats his blood.

If only he can convince her that, despite his bad boy ways, he can change for the good. Her love becomes his only salvation. Passion burns white-hot as a dark threat looms. The ghost doesn't want them to be together and sets her sights on Thayne, luring him to a place that goes beyond death. Will Karly be able to save him before it's too late?
Review:
This was ok; certainly, the writing was readable and I didn't notice any particular editing issues. I just think it wasn't really my sort of book. I thought the lust and then the love were too instant and there wasn't anything to support it. Further, I thought the manner in which Thayne pursued Karly felt more like a skeevy come-on artist than legitimate feels and the way, no matter what scene was happening, sexual thoughts were interjected cluttered the narrative.

I don't actually mean to suggest it wasn't a good book. I just think there are plenty of people who will enjoy it more than me. I was pretty so-so on the whole thing.