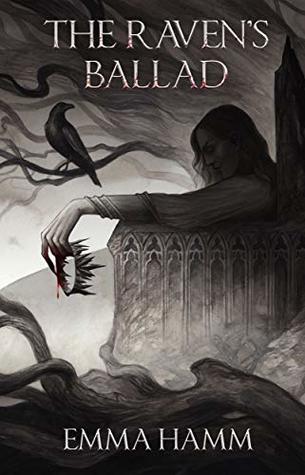 I've been very into Emma Hamm's books lately. This is book five in the Otherworld series. However, books one and two are a duology, as are books four and five. (I've not read the standalone third book). I borrowed this fifth book, The Raven's Ballad, through Amazon Prime.
Description from Goodreads:
Once upon a time…

A curse can only be broken by luck or an impossible feat, and Aisling has tried numerous impossible feats. Every morning she changes into a swan. Every dusk she has a few moments with the man she loves, only to watch him forced into the form of a raven by the same curse.

When it becomes clear the curse is directly connected with an ancient, awakening evil, she sets off into the depths of Underhill to find answers. Unfortunately, this is a journey that must be made alone.

Bran refuses to believe there isn't another way. Split off from his queen, he joins forces with the Seelie Fae and the Druids. Darkness spreads throughout the Raven Kingdom. Both king and queen fight to protect their people, their home, and the love they have for each other.
Review:
As I said, this is the fourth book by Emma Hamm I've read and I have to say it was my least favorite. That isn't to say I didn't like it, just that it wasn't as strong in the things that made me love the others. Also, it's the only one I got in kindle instead of audio. So, I suppose there's a chance that the lack of Siobhan Waring's narration affected me. Though, I don't think that was the case.

The reason I say I didn't love this one as much, is that what I liked about the previous three books in this series is that Hamm subverted a lot of the expected tropes, especially around women. Here she played into them. While this still made a readable story that I enjoyed, it didn't light me up as much as it would have if she hadn't. As examples (and this is a spoiler), the female villain is trying to destroy the world because she was spurned by a man. This has to be the number one most common reason women in fiction go bad. *yawn*

Also, what I most enjoyed in The Faceless Woman (the beginning of this duology) was the banter between Aisling and Bran. They spend 95% of this book apart and I missed them as a couple, even if I understood why it had to be that way.

Lastly, I noticed several copy edit mistakes. For example, 'she' is 'se' at one point and Aisling came out AIsling more than once. None of them disrupted my reading and they aren't super common, but they are there. They may be in all the previous books too. But as I said, I listened to them, rather than read, so I wouldn't have noticed.

I did appreciate the presence of a strong M/F platonic friendship. Neither character was even gay, thereby prohibiting a romance. Two people of opposite genders were simply allowed to love each other as family, despite there being no blood between them. I wish we could see that more often. (As a side note, I would love to see a gay pairing in this universe somewhere. I don't even understand why creatures like the fae would conform to heteronormativity. I mean, that just seems so human and beneath them. *shrug*)

I also still liked Aisling and Bran as characters and recognize how much they grew as people, especially Bran. I look forward to reading more of Hamm's writing.