I received a copy of E.M. Hamill's Peacemaker through Netgalley.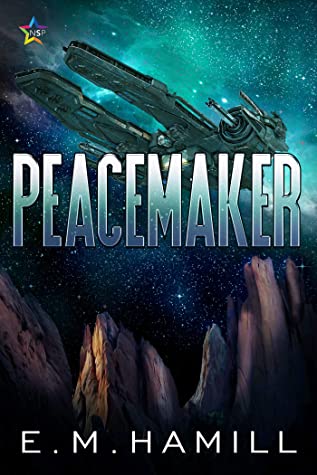 Description from Goodreads:
Third-gender operative Dalí Tamareia thought their life as an ambassador ended when they joined a galactic intelligence agency. When they're yanked out of the field and tapped to negotiate the surrender of deadly bio-engineered warriors who crashed into hostile territory, Dalí is thrust headfirst back into the tumultuous world of galactic diplomacy.

Dalí has faced Shontavians before, but not like these. The stranded mercenaries are highly intelligent and have an agenda of their own. Dalí can't afford to be distracted from the negotiations by their own demons or the presence of a charming diplomat with a mysterious past.

As a brewing civil war threatens to derail the entire mission, Dali must use all their skills to bring this dangerous situation to a peaceful end—but the Shontavians may not be the biggest monsters at the table. Someone is determined to see Dalí and their team dead before they discover the brutal truth hidden in the wreckage.
Review:
It took me a little while to get into this book. I think mostly because it's been a while since I read the first one and I didn't remember a lot. But by the time the plot really got rolling, I'd mostly caught up. I enjoyed quite a lot about it. Dali is a likable character. The universe is an interesting one, and the plot kept me engaged (even if very little of it was a surprise). The one thing I didn't see coming, the twist at the end, didn't feel believable, however. I can think of several ways it might play out and become more believable though. So, I look forward to the continuation to see what happens.