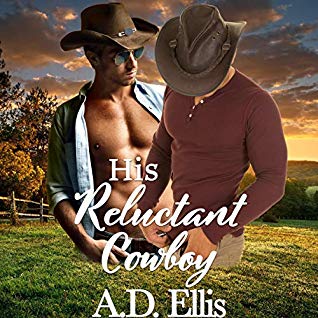 I received an Audible code for a review copy of His Reluctant Cowboy, by A.D. Ellis.
Description from Goodreads:
Out-and-proud volunteer dance instructor, Reid Alexander, is a California boy accustomed to living in flashy luxury. He is less than thrilled upon inheriting his late grandfather's South Dakota horse ranch. Yet, he must endure three months of cowboy hell before he can even consider selling the property. As the ranch foreman, Walker Corrigan's entire life is Pine Ridge. When Reid arrives with cold-hearted plans to sell, Walker endeavors to endear the place to the younger man.
Reid is unprepared for the sudden attachment to Walker, the land, and – unbelievably enough – the horses.
Walker's long-suffering heart takes an unexpected gallop straight toward Reid. Both men are on-board with exploring their relationship, and Reid discovers ranch ownership is more gratifying than he'd once imagined. But Reid is forced to reconsider his place on the ranch when threats put the property and employees in danger.
Menacing events call Reid's integrity into question, and he considers saving everyone the hassle and throwing in the reins. But how can he leave when his heart now feels at home on Pine Ridge Ranch and in Walker's arms?

Review:
I'm in an awkward position reviewing this book. I received an Audible credit for it in exchange for an honest review. However, the credit came from the narrator, Brad King, (not the author) and the narrator did an awesome job. But the story didn't work for me. What do you do in that case? I guess you say just that, huh? King's narration is very good. Ellis' story left me cold.
I disliked Reid in the beginning. But even after he gave up being a brat and became tolerable I was troubled. His growth came in jagged spurts, and nothing about it felt very natural. The romance was sudden and felt very much like the only two adult gay men on the ranch fell in love because they were the only gay men on the ranch. There was no gradual growth or anything like that. And as soon as the two men were together they were suddenly in love, declaring forever, and calling each other Baby. I thought the dirty talk during sex was super cheesy (King deserves some props for pulling that off with aplomb). And I almost went ragey with the way it had to be stressed (more than once) that the love between Walker and Reid was better than the love Walker had with his dead partner. That just was not necessary and was tacky to boot. The villain was practically a joke and the resolution came about because of a very convenient coincidence. Plus, I hate the cover. There I said it.
All in all, not a winner for me in the story department. But again, great narration. My dislike is for the book.