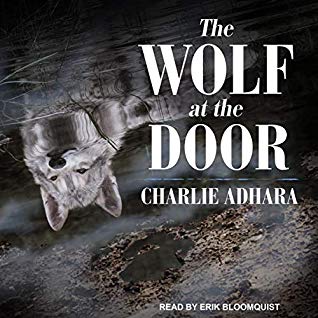 I borrowed an audio copy of Charlie Adhara's The Wolf at the Door from Hoopla.
Description from Goodreads:
Hunting for big bad wolves was never part of Agent Cooper Dayton's plan, but a werewolf attack lands him in the carefully guarded Bureau of Special Investigations. A new case comes with a new partner: ruggedly sexy werewolf Oliver Park. 
Park is an agent of The Trust, a werewolf oversight organization working to ease escalating tensions with the BSI. But as far as Cooper's concerned, it's failing. As they investigate a series of mysterious deaths unlike anything they've seen, every bone in Cooper's body is suspicious of his new partner – even when Park proves himself as competent as he is utterly captivating. 
When more people vanish, pressure to solve the case skyrockets. And though he'd resolved to keep things professional, Cooper's friction with Park soon erupts…into a physical need that can't be contained or controlled. But with a body count that's rising by the day, werewolves and humans are in equal danger. If Cooper and Park don't catch the killer soon, one – or both – of them could be the next to go.
Review:
I generally really enjoyed this. I liked that it was mystery first, romance second. Honestly the romance barely develops. There is plenty of lust, but love….maybe not yet. But it's coming and this book set the stage. I liked the characters and the theme of a guy trying to do the right thing and floundering a bit. I thought Dayton's experience in the BSI could easily be read as an analogy for the way good people can enter a racist environment and slowly become so inoculated by the hate that he doesn't even notice when he's drowning in it. Here it's human/werewolf, but it could easily be read more realistically. 
I had a few small niggles. I disliked that the first time they had sex it was while one was drunk. Consent was plainly and purposefully established (which I liked). But I dislike the get drunk, lose inhibitions to move plot along trope. The mystery also wasn't hard to figure out. Lastly, I listened to the audio version. I thought it was a little too fast and flat. I wouldn't say it's bad by any stretch of the imagination. But I don't have a lot of praise for it either. The story however is a winner for me. I'll be looking for the rest of the series.
Note: Though I didn't write individual reviews for them, I read and enjoyed The Wolf at Bay and Thrown to the Wolves too. I just haven't been sitting down at the computer to review things for the last couple weeks. And if I don't write a review shortly after finishing the book, I forget what I might say, especially with sequels.