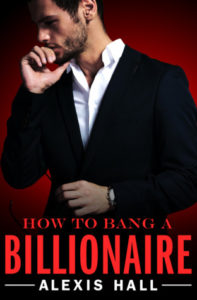 I received a copy of Alexis Hall's How to Bang a Billionaire through Netgalley.
Description from Goodreads:
If England had yearbooks, I'd probably be "Arden St. Ives: Man Least Likely to Set the World on Fire." So far, I haven't. I've no idea what I'm doing at Oxford, no idea what I'm going to do next and, until a week ago, I had no idea who Caspian Hart was. Turns out, he's brilliant, beautiful . . . oh yeah, and a billionaire.
It's impossible not to be captivated by someone like that. But Caspian Hart makes his own rules. And he has a lot of them. About when I can be with him. What I can do with him. And when he'll be through with me.
I'm good at doing what I'm told in the bedroom. The rest of the time, not so much. And now that Caspian's shown me glimpses of the man behind the billionaire I know it's him I want. Not his wealth, not his status. Him. Except that might be the one thing he doesn't have the power to give me. 
Review:
I'm not really sure how to review this book, because I think my biggest problem with it is that it is what it is, and that's hardly fair. It is my understanding that this is the first in a trilogy following the same couple, which makes this book roughly a 1/3 of the story. And while it did end at a natural place and it is long enough that I didn't go all ragey about "why is it broken up," like I do with some novella/serials, I still FEEL like I read a third of a story and didn't get the payout I wanted in the end. But that's what the book is, so should I really fault it for being what it is? In the end, I really just wish I had waited until they were all out to read any of it. Then I could look at the complete arc instead of trying to judge just part of it.
Based on what I've read so far, I like Arden and Caspian. But so much of the book is so painfully awkward. Which makes sense, since it's two men being awkward with one another and failing to make a 'relationship' work. They pull it together in the end, but most of the book is them failing.
One of the things Hall seems to really like to do is take familiar tropes and subvert them, turn them on their head. And that's what he's done here. It's a pastiche of the broody, emotionally stunted alpha billionaire. He's recognizable, but far from what you're used to and I appreciate that. (We even have Caspian and Arden, C & A, like Christian and Anna, maybe? A purposeful head nod?)
As always, the writing is lovely and lush and, in this case, funny too. I liked it. I'll be looking for the rest of them. But I think I'll wait until the series is complete.