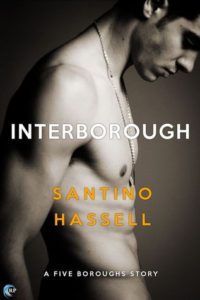 I received a copy of Interborough, by Santino Hassell, from Netgalley.
Description from Goodreads:
The Raymond Rodriguez from a few years ago wouldn't recognize the guy he is today. He's left his slacker ways far behind him and is now juggling two jobs and school. But the balancing act doesn't allow much time for the man he loves.
David is doing his best to be supportive, but problems at work and his own insecurity leave him frustrated—in more ways than the obvious—whenever he goes to bed before Raymond gets home. The heat and affection between them is still there, but they barely have the time or energy to enjoy it. And it doesn't help that Raymond is still hiding David from his colleagues.
The stress mounts so high that a vacation in paradise is filled with turmoil instead of harmony, and culminates on their return to the five boroughs with broken promises and heartache. They have to figure out how to stop allowing their differences to overshadow their love. It's the only way they'll make it to forever.
Review:
You know, I generally know what to expect when I pick up a Santino Hassell book and in that respect there were few surprises here. The characters were real and the situation gritty and über New York. He writes gay and bi men who struggle with relatable difficulties. It's not the cotton candy fantasy many contemporary m/m romances portray and I love that about them.
In this one I unfortunately felt the under-framing a bit too much at times. There were certain scenes that felt abruptly added because the author had something to say on the subject. (Or maybe like he wrote a book around the theme instead of the other way around.) I'm not really complaining, I agreed with him and there are undoubtedly many who can relate and will appreciate seeing their experiences mirrored by the characters. And honestly the story really did call for them. An interracial romance could easily feel less authentic if racism wasn't at least alluded to, for example.
But I thought that some scenes had jagged edges, where I could see where they'd been stitched into the plot. For example, privilege was addressed several times in the book—passing privilege, racial privilege, situational privilege (being able to be out or not), financial privilege. These are real-world issues and I'm glad to see them addressed, but sometimes I didn't think they were dovetailed as smoothly into the plot as they should have been, even when accounting for the fact that some of these things, like a racist interaction with the police, can and often do pop up on any regular Tuesday. Thus, my ability to pick them out as the author's issue de jour.
But man, if my biggest complaint is a little roughness around socially relevant scenes that I'm glad were there regardless, in a book that otherwise shines, that's high praise in my opinion. And others I've spoken to didn't even agree that any particular scenes stood out at all, so this is subjective anyhow.
While the book does stand alone, I think a reader would enjoy it significantly more if they've read Sunset Park. Otherwise, you might wonder why it's so important to these two young men to fight for a relationship that truly seems to be making them miserable. As much as I adore Raymond and David, what really choked my up in this book was all the ways the reader is told that they are madly in love with one another. I really liked seeing the gruff, protective exteriors scrubbed away and the beating hearts underneath.
All in all, it's another win from Hassell. I've somehow missed the third book in the series and I can't wait to go back and read it.