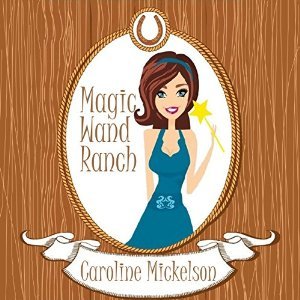 I received an audible copy of Magic Wand Ranch from the author, Caroline Mickelson. It's narrated by Leonor A. Woodworth.
Description from Goodreads:
Fiona Cantrell is a woman on a mission. More aptly put, she's a Fairy Godmother on a mission. Her dream of moving to London is about to come true now that all that stands between her and her new job is a few unpacked suitcases. Or so she thinks until her old boss shows up with one more little task for her to complete before she leaves for Europe. Her new assignment involves a handsome cowboy named Cody, his two rascally nephews, and a mountain of laundry…all of which would be no problem for any self-respecting Fairy Godmother. 
While Fiona manages to handle the laundry and the boys, she quickly learns that she's not immune to Cody's considerable charm. It takes everything she's got to stay focused on completing her task so she can head to London. But when tragedy strikes, Fiona realizes that it will take more magic than she has to try to save a life and mend her own broken heart.
Review:
A cute little story about a fairy godmother who finds true love. I generally enjoyed this in a feel good sort of way. There were a few small inconsistencies, I'm a little bothered by the slender brunette on the cover since the character is meant to be curvy, and I'm a lot bothered that it employs the cliched need for a woman give up her own power for true love (why can women never have both), but for the most part I found it a fun 'read.' The narrator did a wonderful job. I'd be up for more of Mickelson's writing or Woodworth's narration.