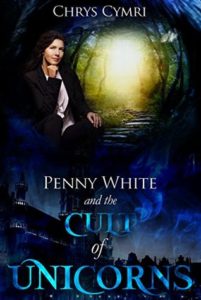 Author, Chrys Cymri sent me an e-copy of her book Penny White and the Cult of Unicorns for review. I read the first in the series, The Temptation of Dragons, last year. Named it one of my five top reads of 2016, actually.
Description from Goodreads:
Raven's ears flicked. 'Dragons aren't known for their patience.'
'More is the pity, ' said the unicorn. 'Father Penny and I were about to amicably settle our differences. A dragon invading our home vastly complicates matters.'
Five months ago my life was changed forever when I learned about Lloegyr, the sister nation to England on the magical parallel world of Daear. Thrilling rides on Raven, a darkly beautiful search dragon, break up the monotony of my life as the priest of a small village church. Nor are things dull at home, not with a sarcastic gryphon, a snail shark, and my younger brother all sharing my living space. And then there's Peter, the almost too perfect police inspector who enjoys Doctor Who and single malt whisky as much as I do.
But Lloegyr is facing its own struggles. As various races such as dragons, gryphons, elves, vampires, and harpies flood to the rapidly growing cities, they all trust the unicorns to act as peace makers. But dead humans are turning up in the city of Northampton, with wounds which only a long spiral horn could have made…
Review:
It's another win for Chrys Cymri. Like the first in the series, I found this to be a fun, whimsical work about a very engaging priest with a Doctor Who obsession and the good luck to be the go-between for the parish and Lloegyr (the land of dragons, unicorns, elves, gryphons and all manner of strange beast and beings). I've been repeatedly amazed at how relatable and real Penny is in this series. As someone who does not consider herself a follower of the Good Book(s), this is a true accomplishment. As is having enough religion in the story to show its importance to Penny, but not come across as preachy. I think this book gets a little closer to that line than the first—there is one particular scene in a pub that I cringed at—but it mostly manages.
I especially appreciate the diversity of this book. Characters come from different cultural, racial, sexual and religious backgrounds and they all blend in seamlessly, just like they do in real life. The writing is marvelous, but I do have to admit I don't think this one is quite as polished and tight as book one. The plot wends about a bit more then it ends on a cliffhanger. I still very much enjoyed it and look forward to book three though.
On a side note, I found my name in it. When you grow up with an odd one it's always a little exciting to come across it. Thanks for that C. C.