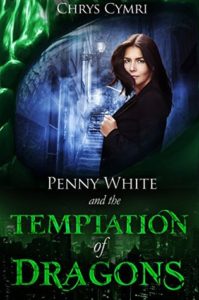 Author, Chrys Cymri sent me an e-copy of her urban fantasy Penny White and the Temptation of Dragons. At this, the time of posting, there is also a giveaway running to win a paperback copy. If it wouldn't be greedy to try and win a copy of a book I already read, I'd so be entering that. You should too.
Description from Goodreads:
Bishop Nigel smiled at me. 'Holy water doesn't harm vampires. Which is just as well, as it would make it impossible to baptise them.'
When I was asked by a dragon to give him the last rites, I never dreamed it would lead to negotiating with his cannibalistic family or running from snail sharks. Life as the priest of a small English village is quite tame in comparision. At least I have Morey, a gryphon with sarcasm management issues, to help me. And if all else fails, there's always red wine and single malt whisky.
As if my life weren't complicated enough, a darkly beautiful dragon named Raven keeps appearing where I least expect him, I've met a handsome police inspector who loves science fiction as much as I do, and my younger brother is getting into trouble for trying to pick up vampires.
That's what happens when you're dealing with an incredible and dangerous parallel world full of mythical creatures. And I have to learn to navigate it all without losing myself, or my brother…
Review:
Oh, I really quite loved this. It was fresh and light-hearted, even with the occupational heavy topic. It had an unusual heroine, being that she was a 36-year-old, ultra geeky, Whovian, widowed vicar. I just adored her. There were interesting side characters. There was a mystery that was interesting enough to engage me and leave room for other things. There was a very mild romantic sub-plot that never came to a head or eclipsed the rest of the story and involved two very different males (though not as a love triangle, as neither relationship progressed far enough). There were grammar jokes and Bechdel test reverences and the book wraps up, while allowing for future adventures. All good things.
I only have two real complaints. The first is that I was very distracted by the logistics of inter-species relationships and marriage.  There was no sex in this book and I don't really anticipate there being any in any future books. It's just not that kind of book. But if you're going to posit marriage between dragons and humans or elves and unicorn, I would like to know how biology is worked around or what compromises are made in the relationship. While I got the sense you were supposed to suspend disbelief on the subject, I found the hanging question quite distracting. Secondly, I did not feel that the brother and his guilt excused his very poor, almost cruel behavior. Perhaps I just don't have enough Christian forgiveness in me, but I finished the book still feeling cheated and indignant on Penny's behalf.
I should also mention the faith aspect of this book. Since the main character was a vicar, her faith was obviously important to her and there is quite a lot of it in the book. This is a sharp edge for me to walk with books. I don't consider myself Christian and I hate, HATE being preached to in my fiction. But this book managed to portray Penny's faith, integrate it into the story, and even cause me to tear up over it at one point, without it ever feeling didactic. I cannot tell you how refreshing that is.