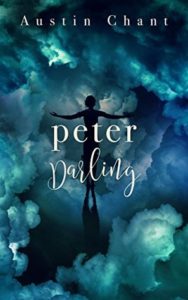 I received a copy of Peter Darling, by Austin Chant, from Netgalley.
Description from Goodreads:
Ten years ago, Peter Pan left Neverland to grow up, leaving behind his adolescent dreams of boyhood and resigning himself to life as Wendy Darling. Growing up, however, has only made him realize how inescapable his identity as a man is. 
But when he returns to Neverland, everything has changed: the Lost Boys have become men, and the war games they once played are now real and deadly. Even more shocking is the attraction Peter never knew he could feel for his old rival, Captain Hook—and the realization that he no longer knows which of them is the real villain.
Review:
Oh, how utterly marvelous! I have to be honest, I'm not generally a fan of retellings; I just so rarely read one I think improves on the original. Peter Darling looked more like a sequel than a retelling though, so I decided to take a chance and read it. I am so glad I did.
I loved almost everything about this. I thought Pan and Hook were charming, and Peter and James even more so. I liked how it makes the reader think about the nature of growing up, how you can never really go back, identity, longing, love and loss. The writing is on point and it's well edited.
Personally, I had a little trouble with Peter and Wendy being the same individual, as they are quite distinct in the original Peter Pan. However, the way Barrie conflated wife/mother in the original Wendy is one of my strongest and most uncomfortable memories of that book. So, this merging of characters might not be so difficult for other readers. It's certainly creative and wonderfully done.
I would love to see Ernest get a book, since I curious how his life will turn out. All in all, Chant has just made my radar. I'll be looking for more.