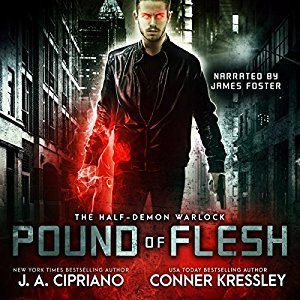 I received an Audible copy of Pound of Flesh, by J. A. Cipriano and Conner Kressley, from the one of the authors.
Description from Goodreads:
My name is Roy Morgan, and I'm not your average Atlanta cop. For one, most of them don't have to kill people to stay alive. I do. It's a half-demon thing. Yep, that's right, half-demon. It's awesome, especially since I'm half-warlock too, and those two sides don't much get along.
Still, that and a buck will get you a candy bar. So it's all good.
Or at least it was.
See, I had this dumb idea to stop a robbery in progress and have myself a snack. Turns out these weren't your run of the mill robbers. No, these were demonic slavers, there to capture the district attorney and sell her off to the highest bidding demon in Hell.
Now if I want to stop them, I'm going to have to fight my way through a city full of hellfire-flinging, gun-toting, spell-weaving demons.
My name is Roy Morgan, and I think I'll have seconds.
Review:
This is fairly standard male urban fantasy. There's a first person, self-deprecating hero who likes to make snarky comments and act like an anti-hero, a damsel in distress that he falls in love with, a female BFF who is characterless beyond being vapid and slutty (and condemned for it), a cute sidekick and prevailing against all odds. I enjoyed it, but I wouldn't call it anything special. It is funny and the writing flows quite well. I also liked the narration of the audible version, done by James Foster. I'd read more in the series, even if I'm not racing out to get the next one.