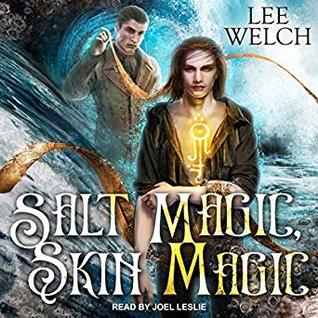 I borrowed an audio copy of Lee Welch's Salt Magic, Skin Magic through Hoopla.
Description from Goodreads:
Lord Thornby has been trapped on his father's isolated Yorkshire estate for a year. There are no bars or chains; he simply can't leave. His sanity is starting to fray. When industrial magician John Blake arrives to investigate a case of witchcraft, he finds the peculiar, arrogant Thornby as alarming as he is attractive. John soon finds himself caught up in a dark fairytale, where all the rules of magic—and love—are changed. 
To set Thornby free, both men must face life-changing truths—and John must accept that the brave, witty man who's winning his heart may also be about to break it. Can they escape a web of magic that's as perilous as love?
Review:
I liked, but didn't love this one. I liked both the main characters. I thought the attempt to give the villain depth was appreciable. I liked that Thornby and the step mother made peace (no needlessly evil woman). I liked the desperation between the two men. 
However, I thought it was a bit slow to start and went on longer than need be. Plus, while I have no problem with the dominance/submission games Thornby and Blake played in bed, I didn't really think it fit their personalities very well. (Though I did think the way it developed worked fine.) All in all, I'd read more if this becomes a series. But I'm not rushing out to buy anything. Joel Leslie did a fine job with the narration.