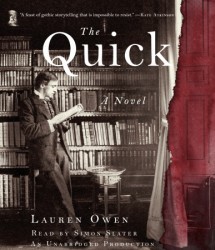 I borrowed an audio copy pf Lauren Owen's The Quick though my local library.
Description from Goodreads:
1892: James Norbury, a shy would-be poet newly down from Oxford, finds lodging with a charming young aristocrat. Through this new friendship, he is introduced to the drawing-rooms of high society and finds love in an unexpected quarter. Then, suddenly, he vanishes without a trace. Alarmed, his sister, Charlotte, sets out from their crumbling country estate determined to find him. In the sinister, labyrinthine London that greets her, she uncovers a hidden, supernatural city populated by unforgettable characters: a female rope walker turned vigilante, a street urchin with a deadly secret, and the chilling "Doctor Knife." But the answer to her brother's disappearance ultimately lies within the doors of the exclusive, secretive Aegolius Club, whose predatory members include the most ambitious, and most bloodthirsty, men in England.
Review:
I enjoyed many aspects of this book. I liked the characters. I thought the writing was good. It had quite a lot of atmosphere. However, I thought it far too long. A fact that was exacerbated by how very slow and meandering it was. Plus, while I appreciated the representation of having a gay man as a main character, the fact that his story became so very tragic had more than a whiff of 'punish the gay' in it. This bothered me. All in all it was good but tedious. Simon Slater did a fine job with narration. I have no complaints on that front.