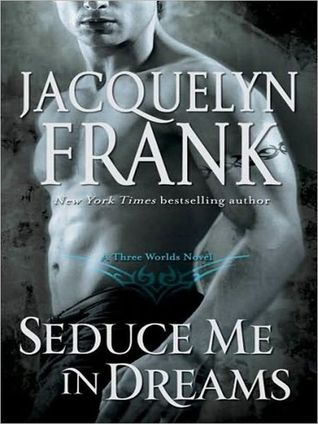 I borrowed an audio copy of Seduce Me in Dreams, by Jacquelyn Frank through my local library.
Description from Goodreads:
Dark. Mysterious. Sensual. When Bronse Chapel, the commander of a specialized unit of the Interplanetary Militia, begins to dream about a beautiful and exotic brunette, he wants to dismiss it as being induced by lack of sleep . . . or perhaps lack of sex. But his instincts tell him it's something different, something far more dangerous.
Ravenna is the leader of the Chosen Ones, a small group of people from her village born with extraordinary powers. She doesn't know that draws her to Bronse's dreams night after night, but she senses that he and his team are in jeopardy. Ravenna can help him, but first Bronse must save the Chosen Ones from those who plan to use their powers for evil. Together, Bronse and Ravenna will be unstoppable. But Ravenna is hiding something that could endanger them all.
Review:
I only have myself to blame. I borrowed this from the library. I've passed it up several times, expecting it to be horrible. Experience has taught that older PNR (this is from 2011) and I don't usually get along. Gender tropes are often too strongly reinforced for me. Women are always small and delicate and men are large and dangerous. Women are victims, men are victors, etc. But I've listened to pretty much all the PNR that my library has available via OverDrive/Libby, so I gave in and rented this.
It tricked me. I thought it started out well and I began to think maybe I'd been wrong….then it all went to shite. Or to be more precise, it all went exactly as I'd previously anticipated. I lost track of how many times phrases like "her sexy little lips," "her pert little bottom," "her sweet little hands," "her bright little eyes," etc. etc. etc. etc. etc. etc. etc. etc. etc. Ravenna's character development seemed entirely based on her ability to withstand misery and Bronse's in his ability to berate himself for his attraction and kill things. Of course, if Ravenna considered killing someone it had to be avoided at all costs, because it would be sooooo harmful to hermental state. Why is this only ever true for women?
I did think the universe this was set in looked interesting. But I didn't feel like it was well developed. Nor were any of the side characters. Lastly (and importantly), there is a pretty big mystery that moves the plot along. It isn't solved. The book ends with a, "I guess we'll never know why." Ummmmm, no. That's 100% not acceptable to me.
All in all, not AS bad as I expected. But not great either.