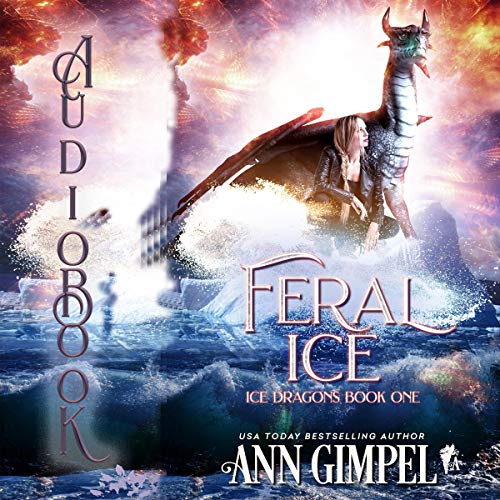 I borrowed an audio copy of Ann Gimpel's Feral Ice through Hoopla.
Description from Goodreads:
Doctor and biochemist, Erin signed up for six months aboard an Antarctic research ship to escape her stifling surgery practice. Jerked from her cozy cabin, she's dumped in an ice cave by men who assume she's dead. 
Konstantin and Katya, twins and dragon shifters, have lived miles beneath the polar ice cap for hundreds of years. Other dragons left, but they stuck it out. When several humans—all but two of them dead—end up not far from their lair, the opportunity is too good to pass up. 
If the lore is to be believed, humans can become dragon shifters. Delighted by a simple solution to their enforced isolation, the dragons lure the humans to their home. Surely, they'll be thrilled by the prospect of becoming magical. 
Or not. 
Too bad no one shared the script with the humans. Science be damned, they're horrorstruck in the face of fire-breathing dragons. All they want is to escape, but home is thousands of miles away.
Review:
This was bad…like really bad. I thought, in the beginning, I might be able to enjoy it in the 'it's so bad it's amusing' sort of way. But no, it didn't even manage that. The story moves along in robotic jerks. The romance is so underdeveloped I literally thought it was going to be between the two humans, instead of the dragon and female human. Honestly, I think it would have been a better pairing. But mostly it just meant I didn't feel anything for or about the couple. The lore is ridiculous and poorly explained. And dialogue is super cheesy.
The narrator did and OK job. But I don't understand why Gimpel would choose a male narrator for a book in which the only first person POV is female.