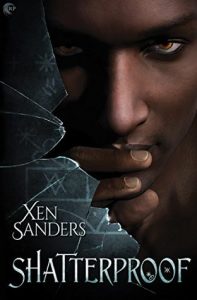 I purchased a copy of Xen Sanders' Shatterproof
.
Description from Goodreads:
Saint's afraid to die. Grey can't stand to live.
Grey Jean-Marcelin wants to die. He thought painting his passion—vivid portrayals of Haitian life and vodou faith—would be enough to anchor him to this world. But it isn't. And when the mysterious man known only as Saint saves Grey from a suicide attempt, it's more curse than blessing—until Grey discovers that Saint isn't just an EMT. He's a banished fae, and can only survive by draining the lives of those he loves.
All Saint needed was a simple bargain: one life willingly given for another. But as Saint's feelings for Grey grow deeper, centuries of guilt leave him desperate to save a man who doesn't want salvation, even if Grey's life means Saint's death.
When Grey's depression consumes him, only he can decide if living is worth the struggle. Yet his choice may come too late to save his life . . . or Saint's soul. And whatever choice he makes, it may shatter them both.
Review:
I read this as part of a Buddy Read and, of the ten or so of us, I think I'm the only one who didn't love it. Now, I didn't dislike it. But it ended and I was just sort of like, "Well, that's a thing I've read now."
I actually have a pretty high tolerance for Purple Prose, and I'll 100% admit the writing in this book is beautiful. But with dozens of passages like this:
Saint's lips parted. To question, to protest—he would never know when he never had the chance. Not when Grey's lips stole his, stole him, and carried him away with a kiss made up of sighs on silk and the taste of amber. He kissed like sugar, sweet and gritty, and Saint clutched at his arms…
I eventually lost patience with it. Plus, the book is very angsty. I actually would say it's overwrought. I can handle flowery language or I can handle constant push and pull between characters. But personally, I just can't seem to handle both.
Then then there was the just too conveniently discovered solution to the problem of the book. It struck me as, well, too convenient and non-specific enough. By this I mean that I feel like Saint would have made the same choice for any of his past lost lovers, not just Grey. Out of guilt if nothing else. So, I found it profoundly dissatisfying.
My point is that this wasn't a great book for me. The style just isn't one I like. But it's pretty and I really appreciate so many other aspects of it. When did you last see a suicidally depressed hero? There's diversity in the cast (even on the cover). Creole religion is presented positively. There's a lot to like in this book, if the writing style is one you can tolerate. I think I'm an outlier on this one.