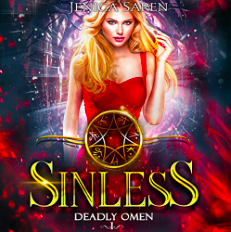 I received an audible code for a copy of Sinless, by Janice Saren.
Description from Goodreads:
So, introduction time and all that fun stuff. Yay. 
My name is Ria. Don't ask about the last name, I don't wanna talk about it. I am twenty-three years old and living a pretty glamorous life, what with the fiancé (he's amazing, by the way), the nice car, the gorgeous house, and the job I love. Huh? The job? 
Okay, so yeah. I'm a stripper. How's that for an opening line? 
Well, I had all of those things before shit hit the fan and I found myself in this tiny town in a not-so-tiny house. Speaking of the house, I have roommates. Six, actually. Let me clarify: I have six insanely hot, insanely weird, and insanely insane roommates. Gory details and all that be spared, shit's getting real in this innocent-looking town and, let's face it, I'm not qualified to handle bizarre crap. Not my thing; I'm a stripper for fuck's sake. 
However, Eliam, Gatlin, Kellan, Gray, Beck, and Rafe seem to think that I am just the gal for the job. The Severin brothers are getting me all involved and in danger, and I'm truthfully terrified – not of the danger stuff, but these guys. There's something different about them that I can't quite put my finger on, but I swear I'm going to figure it out.
Review (with spoilers):
Not great. I like what the author was trying to do here. Ria is determined to be her own person. She shows backbone when she finds her boyfriend cheating. She has a meaningful friendship with another woman (i.e. not all other women are the enemy). She's not afraid or ashamed of her own sexuality and doesn't agonize over it.
However, I think Saren failed in a lot of the execution. The inner-self was so overused that Ria simply felt mentally unhinged. It became a little more bearable when it was hinted toward the end that she might actually have a split personality. But as it was, I cringed (often literally) whenever Ria started describing her inner-self, complete with what she was wearing, how she was walking, what expression she had on her face, the tone of her voice, etc. I wanted Inner-Self to die and go away.
Secondly, the six heroes. This was majorly problematic for me for two reasons. The first being that I couldn't keep them all straight and tell them apart. Saren gave them accents and habits, but six men filling the same role is just too many. Secondly, this book is referred to as a reverse harem. Ria only actually has sex with two of them (I think, definitely not more). But it felt super icky to me because she seemed a lot more like a little sister that they all got to fondle and fuck. (Or maybe she got to fuck her big brothers, as she was perfectly willing to initiate the act, which I did appreciate.) What's more, Ria is a serious case of fawned over by all the males for being special, while not really doing anything particularly special beyond existing.
Lastly (and this is a big one for me), the mystery/villian. It's secondary to the plot, not even being addressed until the halfway mark. Then, one red herring villain is dispatched off-page and super anticlimactically. Cue Ria's too-stupid-to-live tantrum because the men won't listen to her about another villain still being at large (and they act surprised when this turns out to be true). But come one, the man stabbed her with a magical athame and by all description looked like a freakin' zombie. This did not fly as something centuries-old, experienced people would miss. I 100% think the author forgot she'd included the stabbing in her plot. (I'm only half joking here.)
All in all, readable, but not a real winner for me. The narrator (Melissa Schwairy) did a great job though.