I'm trying to read some of the physical book from my shelves, to make room for new ones and to replenish the restock stash for my Little Free Library. Wanna see a picture? I'm awful proud of it.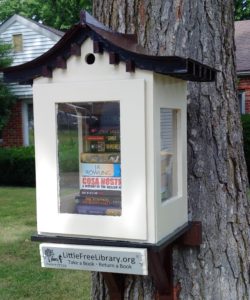 Anyhow, I'm trying to clear out the physical book, so this was my morning.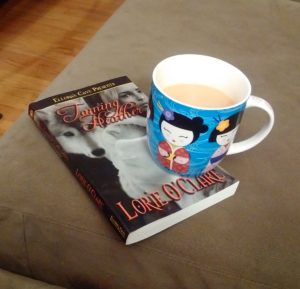 I picked up this used copy of Taming Heather, by Lorie O'Clare, from Goodwill for $0.70.
Description from Goodwill:
Heather Graham had one thing in mind—furthering her career. And an exposé on the werewolves in her community would do just that. All she needed was to get up close and personal with one of them, and she could write an article that would give her front-page coverage across the nation. Her career would skyrocket! And Marc McAllister was just the man—and werewolf—to help her do it.But when Marc realizes Heather's flirty behavior exists solely so she can exploit werewolves in her newspaper, he decides it's time to show little Miss Graham exactly how a werewolf behaves. And Marc McAllister isn't just any werewolf, but purebred Cariboo Lunewulf—wild, strong, aggressive and the quintessential alpha male.In a clash of wills, bodies and souls, Marc and Heather set off enough sparks to start a raging fire. Drawing the wild side out of Marc hits Heather with a bolt of lust that won't go away. Unexpectedly for Marc, he may just have met his match in the little spitfire.But their biggest hurdle may not be with each other, but from another direction entirely.
Review:
Oh man, this was bad. If I used stars here, I'd say it's only avoiding a one star because I laughed a lot. (There was very little deliberate humor in it.) It was basically just a thin veneer of plot to allow for lots and lots of sex that essentially started the moment the man characters met. But hey, it's Ellora's Cave and that's practically their business model. So, I can't say I went in unaware. I happen to occasionally like that sort of book in a "I'm laughing with you, not at you sort of way."
Unfortunately, the sex wasn't that great. The writing was extremely repetitive, with the same stock words/phrases being used again and again and again and again, sometimes more than once within the same paragraph, and the same information being provided over and over. The characters never really lived up to their description; the book depending on that description to give them life, instead of providing proof. Plus, I thought Marc was a jerk. Lastly, the copyediting needed a bit more work and it contradicted itself.
---
What I'm drinking: Milky chai. My stepfather gave me some loose chai from The Natural Way, but I failed utterly in making it correctly. It hardly had any flavor at all. I think I didn't boil it long enough, so it's basically just warm, brown milk. *shrug* live and learn