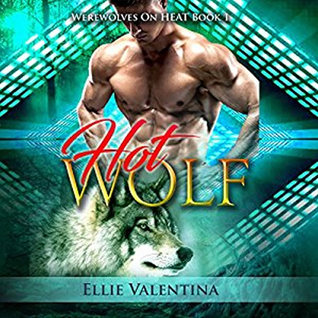 I received an Audible code for this book (Hot Wolf, by Ellie Valentina), or rather for the compilation, narrated by Meghan Kelly, of the first three books in the Werewolves on Heat series. It was my plan to save the reviews for a single blog post, once I had listened to them all. However, I'm traveling for the holidays and don't anticipate actually finishing the series in 2019. My sense of order just won't let me a review a book I read in 2019 in 2020. So, I'm posting this one now and will post again when I finish the series next year….decade. Crazy.
Description from Goodreads:
Ava Sparks was a paranormal assassin tasked with eradicating werewolves from existence. 
Her latest target was gorgeous billionaire Chase Elliot. Intelligence suggested he was hiding a secret life as a werewolf and because of that he was to be erased from existence. 
However, once Ava became close to the charming Chase she made a stunning realization that changed everything. 
Now, instead of killing the werewolf, she was to find herself making love to him and life as everyone knew it would never be the same again… 
Review:
First, I think both the title and the cover of this book are misleading. The title makes you think it's erotica, but it's not at all. There is VERY LITTLE heat in it. What's more, the werewolf in question is very cool and collected. He may be attractive, but hot isn't an adequate description of him as a whole. He's a politician, not a soldier or anything else that would have him hulking ripped on the cover either. All in all, you are simply given there wrong first impression of this book (and probably series). 
This is exacerbated by the fact that werewolves are basically extraneous to the plot. The characters could be from opposing political factions, or ninja clans or corporate spies. None of it would change the plot one iota. I was disappointed by this fact.
Getting past all that, I though it was still only so-so (not bad, but not good either). The 'parents' seem to make decisions based on who knows what that make the heroine go off and make ill-thought plans and take poorly executed actions. (She's awfully inept for an experienced assassin.) She seems to have several personality shifts throughout the book. And the happily-ever-after is just too pat to stomach easily.