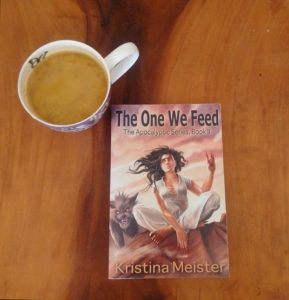 I won a copy of Kristina Meister's The One We Feed through Library Thing. I read/reviewed book one in the series, Craving, here.
Description from Goodreads:
After the bizarre suicide of her sister, Lilith Pierce discovered that the world was full of dangers and villains she could not have imagined, and that the history of human civilization was far from complete. Now, gifted with tremendous powers she barely understands, Lilith is determined to stop whatever plots and schemes her immortal cousins, the Sangha, can hatch. When a simple reconnaissance mission ends in tragedy; however, Lilith's entire focus changes.
Attempting to save a child she's never met from a fate worse than death will require every ounce of Lilith's strength, forge new and treacherous alliances, and possibly change the world forever. Suddenly all eyes are on her, and the destiny of the human race is on her shoulders.
Review:
While I enjoyed the humor, the geekery and the actual writing, and I really do think it presents a thought provoking  philosophy, I was generally disappointed in this book. The reason for this actually started in book one, with the too perfect heroine. It only gets worse here. Essentially, Lilith is indestructible and she knows it. So, there is no challenge to her from anyone, which means no challenge to the reader. This whole book is her wandering around making witty quips, teasing Jinx (who I adore), and almost lazily figuring a thing or two out. Oh sure, there are some fight scenes, but she's faster, stronger, smarter, more invisible, more skilled, etc than any of her opponents, so the result is a foregone conclusion and comes far too quickly. It's dull, no matter how much action is happening.
The book also falls into what I consider a tempting trap when dealing with immortality. All of a sudden, almost everyone Lilith meets is a famous historical character. All the billions of people who have lived throughout history and the immortals happen to be ones we'd have heard of?
The book is worth reading to engage the Buddhist (and such) arguments, but it doesn't have quite the flare and appeal as the first book, in my opinion.
---
What I'm drinking: It's a bit of a bastardized, homemade version of Turmeric Tea, sometimes called Golden Milk. Here is some information and a recipe from Health Ambition. It's not exactly the one I used, as I didn't actually use a recipe and, I didn't have coconut milk, so I used unsweetened almond milk. But hey, it was still good and good for me, worth checking out.