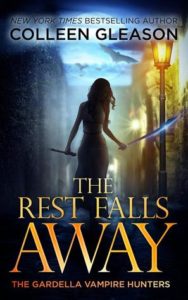 I downloaded a copy of Colleen Gleason's The Rest Falls Away from Amazon, when it was free.
Description from Goodreads:
Beneath the glitter of dazzling nineteenth century London Society lurks a bloodthirsty evil…
Vampires have always lived among them, quietly attacking unsuspecting debutantes and dandified lords as well as hackney drivers and Bond Street milliners. If not for the vampire slayers of the Gardella family, these immortal creatures would have long ago taken control of the world. 
In every generation, a Gardella is called to accept the family legacy, and this time, Victoria Gardella Grantworth is chosen, on the eve of her debut, to carry the stake. But as she moves between the crush of ballrooms and dangerous moonlit streets, Victoria's heart is torn between London's most eligible bachelor, the Marquess of Rockley, and her dark, dangerous duty. 
And when she comes face-to-face with the most powerful vampire in history, Victoria must ultimately make a choice between duty and love.
Review:
This was a bit of a mess, if I'm honest. The dialogue was quite stiff, in that forced historical sort of way. There were long vampire info-drops that never strayed from established vampire lore, so hardly felt necessary. New talents or vampire abilities popped up unexpectedly and seemingly at random. The vampires and their leader where little more than props, with no appearance of a brain between them and they were defeated with such ease that Victoria rarely even wrinkled her ball gown or mussed her coiffure. And this after becoming unbeatable after about a month of training. Victoria also had an irritating habit of making overly boastful comments before fights. There was a certain amount of humor and the situation with Victoria and her realization of having been selfish was thought provoking. Otherwise, I'd call this a failure for me.