I received an Audible code for a free copy of Tom Julian's Timberwolf, narrated by C.J. McAllister.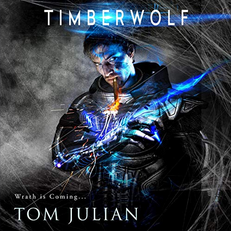 Description from Goodreads:
Some want peace, some want war… he just wants the damned spider out of his head!

Humanity destroyed every alien species we encountered, until we met the Arnock – arachnids that drove us insane on contact. Timberwolf was captured by the Arnock and can now "hear" the Arnock in his head. Near madness, he's gone on multiple suicide missions and come back unscathed – the alien forcing him to survive.

Emanuel Gray was Timberwolf's commander and mentor. A former General, now religious fanatic – Gray sees our peace with the Arnock as a sin. He's a wanted man and hell-bent on wiping the Arnock out.

Timberwolf chases Gray to the weapons factory world of Highland. When the Arnock arrive it becomes a battle for the deadliest weapons in the galaxy. Timberwolf will have to choose between getting the alien spider out his head or taking out Gray – all while millions of lives hang in the balance.
Review:
Not bad, but not a real winner for me either. Part of the reason is that it's plot-driven instead of character-driven. So, I never connected with any of the characters. But part of it is also simply that I felt like the plot was just leading from one fight scene to the next. I swear a good 80% of the book is descriptions of battles. I got bored with them. I liked Timberwolf well enough, as well as the side characters. But I felt the duo Villians diluted the focus of the story. The narrator did a fabulous job, however.