I received an Audible code for a copy of Vamp City by C. D. Brown.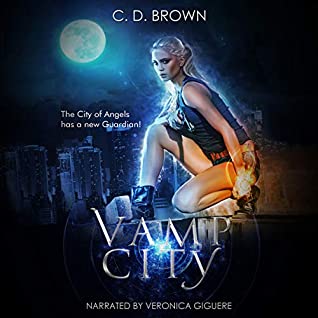 Description from Goodreads:
All Sophia Fontanelle wanted was to be left alone. On the run from New Orleans and its vampire council, she heads to Los Angeles to start a new life. But when The Caballero, the ancient peacekeeper rumored to be the great Zorro himself, is murdered, Sophia finds herself caught up in a fight to clear her name. Threatened by a 1950s-era gangster turned vamp by the Caballero himself, can she survive in Vamp City?
Review:
I have really conflicting feelings about this book. In one sense it was pretty good. Certainly, it's mechanically well written and perfectly readable. Similarly, I'm thrilled to have an ex-prostitute as the main character, an adorkable cinnamon roll love interest, and plenty of varied representation. Ther are white characters, black characters, Latinas, Omni-sexuals, rich, poor, etc. And both black and brown characters get to be good guys.
However, I have two pretty big complaints, both of which hinge on this same varied cast. First, in a very real sense, a lot of the book balances on the author creating opportunities to present the reader with one more quirky vampire subset. We have the vegan, the lispy Catalonian, the punks, the classic Hollywood era vamps, the 1950s gangster vamps, the sassy Latina vamps, the 1990s style gangland vamps, the sharp-tongued lawyer vamp, the "Omni-sexual" glam vamps, the start-up millennial vamps, etc, etc. etc. I very quickly got tired of meeting the newest type of vamp. I understand that being a noir style some of this was expected, but it was a schtick Brown leaned far too heavily on.
Secondly, while I appreciated all the representation in the novel, it was seriously compromised by being INCREDIBLY (and problematically) stereotypical. The Latina was a sassy sexpot. The black characters were gang bangers that didn't respect women and were questionably trustable. The gay (or omni-sexual) characters were campy. None of them were developed beyond the cliche. And the downside of many of them being on the heroine's side and therefor having more page-time was that they were given more opportunity to show off their stereotypicalness. Plus, they tended to be louder and more unruly than the white vampire groups. (There was an unmissable in-crowd and out-crowd.) I don't necessarily think the (white male) author meant it to be this way. But it was. The way the characters spoke, alone, was majorly problematic. So, taken all together it's cringy to the extreme.
I do think the narrator did as good a job with it as she could. But with so many characters using dated terms like, "babe" and "doll," it got hard to tell them apart.