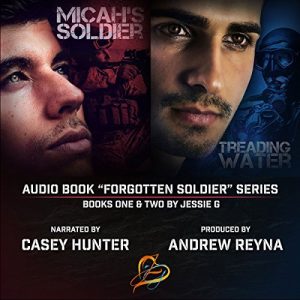 I received an Audible copy of Treading Water from the author, Jessie G.
Description from Goodreads:
After devoting eighteen years of his life to the US Navy, Petty Officer First Class Shane Parker is struggling with the very real possibility of becoming unnecessary. If he doesn't make Chief Petty Officer before his twenty—and it doesn't seem likely that he will—he'll be retired from active service and placed on the Fleet Reserve list until his mooring lines are officially cut forever. While it would all be very honorable and ceremonial, he simply wasn't civilian material.
Before even swearing-in, Julian Brand knew he wasn't cut out to be a soldier, but refusing wasn't an option. Generations of Brand man made careers in the military and the expectation of every Brand son was to follow in those prestigious footsteps. Though the prospect of being rolled back hindered his every step, he survived Battle Stations and did his time. Six years out of uniform and Julian still struggles to find familial acceptance as he fights to live life on his terms.
On the surface, they couldn't be more different, but when Jared Ramos calls, neither are capable of refusing. If they can find a way to work together, they might be able to save a friend and each other in the process.
Review:
I read Micah's Soldier at the tail end of 2015. About it I said, "Not particularly deep, but well developed for something so short. It's also very sweet." So when I saw an audio version of the sequel available I was happy to give it a go.
I had a mixed experience with Treading Water. I really thought Shane and Julian were a cute couple and I liked the way their relationship progressed. I thought the writing was pretty good and I liked that injured soldiers were shown to have lives even after injury. This was all good.
But I struggled with having five first person POVs and with Shawn as a character. (Well, I struggled keeping Shawn and Shane straight in general. Why are the names so similar?) But I had some difficulty because his injury is what holds the whole book together; it's the reason Shane and Julian meet at all and why they spend time together. But Since Shane and Julian are the main characters, it left Shawn and his traumatic injury feeling a bit like a storytelling prop.
About the narrator, Casey Hunter…I hate to say it, but he didn't do a very good job. (Though it did improve as the book went on.) His voice was easy to listen to, but the timing was off in so many ways. There were extra long pauses where you wouldn't expect them, like in the middle of a sentence, and almost no pauses where you would, like between chapters. There were times I was honestly left confused about who was saying what or that we'd moved on to a new character or section. I don't know how audiobooks are produced. Maybe this should be put on the shoulders of the producer, not the narrator. Because, as I said, his voice and intonations was fine. But the timing issues definitely effected my listening experience.
All in all, I'd be willing to read more by Jessie G. and that's really what I judge an author by in the end.