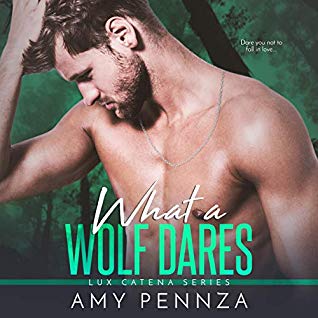 I received an audible credit for a copy of Amy Pennza's What a Wolf Dares.
Description from Goodreads:
What happens when the species' most notorious womanizer meets the woman of his dreams?
As a werewolf Alpha's daughter, Sophie Gregory was raised to understand she has two important purposes in life–to be wed and bred. When she fails at the first, she wants nothing to do with the second, even if it means spending the rest of her life alone. After fleeing a disastrous arranged marriage, she seeks shelter with a neighboring pack. There's just one problem. Her new pack is home to the handsome, roguish Remy Arsenault: serial dater and notorious womanizer. Remy makes her laugh…and her heart pound. She's not looking for commitment, but she might just be up for a fling. That's all Remy is offering, anyway, right?
Remy has a reputation for being a player, but in truth, he's ready to settle down. Too bad that's the very last thing Sophie is interested in. He will do anything to win the heart of the woman who makes his head spin with lust–including seducing her with the most delicious sex imaginable. Sophie wants a fling. But what if he's ready for so much more? To convince her he's serious this time, he might just have to pull off a small miracle.
Review:
I thought this was a perfectly adequate shifter-finds-his mate story. I didn't think there was anything to make it stand out and shine, but nor was there anything that made me grit my teeth and hate it.
I thought the writing was perfectly readable (or listenable, in my case) and I liked both of the main characters. I did think the villains were cartoonish in how vile they were and the person who came to the rescue in the end, wasn't really redeemed in my eyes for waiting 20+ years to step in. I don't believe they could have been oblivious. So, I didn't really find their sudden backbone and moral compass believable.
All in all, a good middle of the road book. Sophie James did a good job with it too. It was easy to listen to. And the fact that I hadn't read book one didn't prevent me from enjoying this one.