I picked up a copy of Maria Vale's The Last Wolf when it was a freebie last year. When I finished it I bought a copy of A Wolf Apart and requested paperback copies of Forever Wolf and Season of the Wolf from the library. Then, I got impatient. So, I canceled that request and borrowed the e-copy of Forever Wolf through Hoopla (which I had to read on my phone) and Season of the Wolf from Netgalley.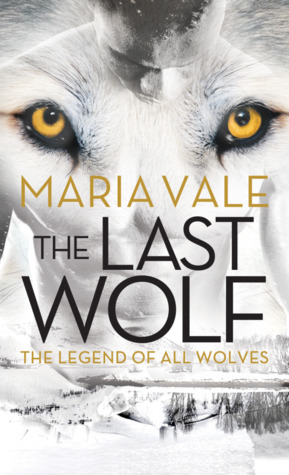 Description: The last Wolf
For three days out of thirty, when the moon is full and her law is iron, the Great North Pack must be wild.

If she returns to her Pack, the stranger will die.
But if she stays…

Silver Nilsdottir is at the bottom of her Pack's social order, with little chance for a decent mate and a better life. Until the day a stranger stumbles into their territory, wounded and beaten, and Silver decides to risk everything on Tiberius Leveraux. But Tiberius isn't all he seems, and in the fragile balance of the Pack and wild, he may tip the destiny of all wolves…
Review:
I absolutely loved this. I've now bought the next one and requested the rest from the library so that I can finish the series. I did think a few important moments (like a pretty major betrayal) were glossed over, but I also understand that that wasn't really what the book was about. It also ended a bit abruptly. But on the whole, I loved both Ti and Silver. I loved Vale's take on werewolves in general and I simply laughed and went "awwww" too many times to count. All without ever becoming overly sappy. I can't wait for more.
---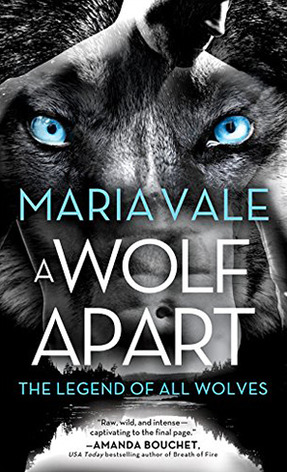 Description: A Wolf Apart
When the Great North Pack is on the verge of falling apart, Pack wolf Elijah Sorensson wants to give up on his successful life in the human world to return home. But the Alpha says no—Elijah must continue to play his role to protect the Pack from those who want to destroy it.
Knowing he needs strength by his side, he seeks out human Thea Villalobos, a woman he's admired from the moment he met her. He hopes she can help him break through his human shell before the ailing wolf inside him dies, and before the Pack is betrayed again. But can Thea accept who and what Elijah really is?
Review:
By the end, I liked this book. But I despaired in the beginning. I can honestly say I flat out disliked the first third. In the beginning, before Elijah found Thea, the book is just so god awful full of derision of women I didn't even want to continue. I understood that the author wanted to show Elijah's contempt for humans and that since he tried to fill the emptiness in his soul with sex it was women he mostly engaged with. So, it's not really misogyny on his part. But I wouldn't swear it isn't on the author's part. Why do authors keep writing women like this? The unrelentingness of it grates. There is no variety or humanity in any of the women Elijah encounters. They're all silicone-filled, money-hungry, informal prostitutes. Maybe not getting paid but still having sex in exchange for gifts or power. Every damn one.

Eventually, that petered out (thank god) and I liked Elijah and Thea. I even liked them together. However, I couldn't tell you what their relationship was built on. Elijah just kind of decides she's the one, out of nowhere, and they run with it. I liked it, but I can't think too deeply about it or it crumbles. I still want to continue with the series and can't wait to get my hands on books 3 and 4.
---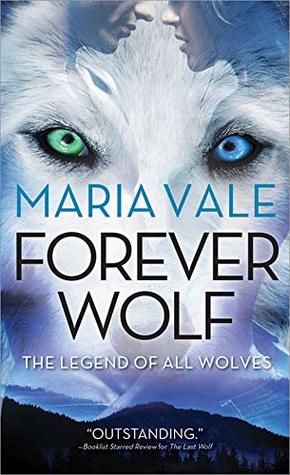 Description: Forever Wolf
Born with one blue eye and one green, Eyulf was abandoned as an infant and has never understood why, or what he is…Varya is fiercely loyal to the Great North Pack, which took her in when she was a teenager. While out on patrol, Varya finds Eyulf wounded and starving and saves his life, at great risk to her own.
Legend says his eyes portend the end of the world…or perhaps, the beginning…
With old and new enemies threatening the Great North, Varya knows as soon as she sees his eyes that she must keep Eyulf hidden away from the superstitious wolves who would doom them both. Until the day they must fight to the death for the Pack's survival, side by side and heart to heart…
Review:
We were back in the Homelands for this one and I think that's just how I like this series. I like all the wolfy behaviors and customs. My reaction to the couple is mixed though. I didn't feel I got to know him anywhere near enough and, while I liked her, I don't understand why she fell so hard for him so quickly, other than being another arctic wolf (and 'I like you just because you're the same race as me' seems a squinky basis for a relationship). Having said that, I liked the book but was disappointed in the ending. It makes sense and wasn't hard to see coming, but it's a happy ending with a heavy dose of sad.
---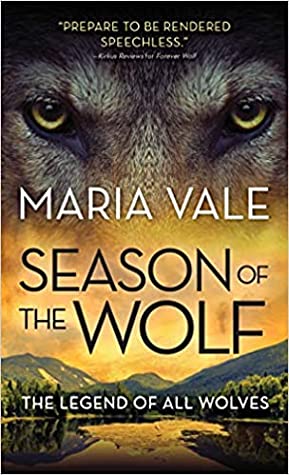 Description: Season of the Wolf
In a world of danger and uncertainty, the Alpha has enough to worry about without him…

For Alpha Evie Kitwanasdottir, things are never easy. The Great North Pack has just survived a deadly attack. Evie is determined to do whatever is necessary to keep her Pack safe, especially from the four Shifters who are their prisoners.

Constantine lost his parents and his humanity on the same devastating day. He has been a thoughtless killer ever since. When Constantine is moved to live under Evie's watchful eye, he discovers that taking directions and having a purpose are not the same thing.

Each moment spent together brings new revelations to Constantine, who begins to understand the loneliness of being Alpha. He finds strength and direction in helping Evie, but there is no room for a small love in the Pack, so Constantine must work harder than ever to prove to Evie he is capable of a love big enough for the Great North Pack itself.
Review:
I'm conflicted about how I feel about this latest volume in The Legend of All Wolves series. I liked it, don't get me wrong. I really liked Evie and Constantine themselves and Constantine's pining was very sweet. I liked seeing a lot of the wolves being more open and seeing some of the pack's personalities. But the book COMPLETELY bypasses the fact that the shifters are the mortal enemies of the wolves. It was wholly unbelievable to me that they would have been so easily accepted into the pack and I had a hard time overlooking this rather large plothole. I also found Evie's knowledge to be inconsistent. One moment she doesn't know what a compass is, the next she's referencing alternative dispute resolutions in a legal context.
Having said all that, I enjoy this series because of the feels. Both the ones the romance evoke and the ones the descriptions of wildlands make me experience. So, I can't wait for there to be more. Yes, I could quibble with the fact that you'd never see the (female) mate of a male alpha trying so desperately to support them in a manner that suggested he secretly needed it, thereby undermining all the strength he's supposed to have. I could, I certainly thought it. But I won't.