Through Goodreads, I won an early e-copy of Misleading a Duke, by A. S. Fenichel.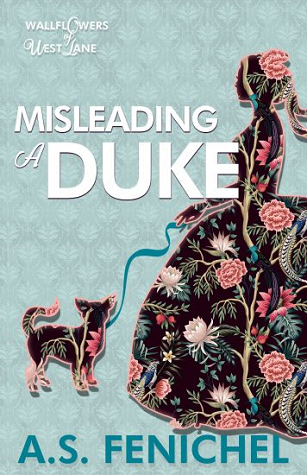 Description:
Betrothed to a man she has barely met, Lady Faith Landon calls upon her three best friends—the self-proclaimed Wallflowers of West Lane—to help uncover the secrets of her mysterious fiancé. Her suspicions are aroused when she learns that he has recently returned from France. Is he a traitor to his country? The truth is quite the opposite. Nicholas Ellsworth, Duke of Breckenridge, is a secret agent for the English Crown who has just completed a risky mission to infiltrate Napoleon's spy network.

After his adventures, Nicholas craves the peace and quiet of the country and settling into domestic bliss with his bride. Until he discovers Faith's deceptive investigation. How can he wed a woman who doesn't trust him? But a powerful spark has ignited between Nicholas and Faith that could bring about a change of heart. Faith seizes her second chance to prove to Nicholas that they are a true love match but his past catches up with them when three French spies come to exact revenge. Surviving rather than wooing has become the order of the day.
Review:
First off, I should not have read this book without reading book one. I don't think it stood well on its own. But what's done is done and that's not the book's fault.
Outside of that issue, I simply didn't care for the book. I think I liked what the author was attempting to do (create a group of sassy, self-reliant women going after control of their lives) but not what she actually wrote. I found the whole thing repetitive, contradictory, and overly sappy. I'll break that down a little more.
I lost track of how many times the characters' internal thoughts ran the same rail. Nicholas was especially bad about this, but certainly, Faith thought the same things over and over too. Tying into this was what Nicholas actually thought. I hated the way every other paragraph was interrupted for either thoughts of how badly he wanted Faith (how attracted he was to her, etc) or how much he disliked her (or both). I get that the author was trying to show that he was conflicted. But instead, it just felt like waffling. But it also made the first half of the book REALLY choppy. Similarly, as the book and relationship progressed the characters went from obviously wanting each other to thinking about how the other was about to leave them or not want them, etc. Over and over and back and forwards.
The sappiness is on an objective scale, but this tipped over into too sappy for me. There were just too many passages about how amazing one or the other was, how much they loved the other, too many declarations of adoration, etc. In my experience, this is a symptom of a particular sort of blunt romance that I just don't enjoy very much.
I do love that cover though!