Reading A Light To Kill By (by Mikel J. Wilson) was a bit of a spur of the moment decision today. It has been promoed on Sadie's Spotlight several times in the run-up to publication day and I'd intended to get hold of it at some point, as I enjoyed the previous books in the Mourning Dove Mysteries series. (I've previously reviewed Murder on the Lake of Fire and Death Opens a Window.)
But I happened to notice that it was on sale today, so I grabbed a copy. And when I also noticed that the author was doing a whole 'track my release day stats' thing because it was, in fact, the actual release day, I decided to just go ahead and give it a read. Sometimes it's the small things that prompt me to action.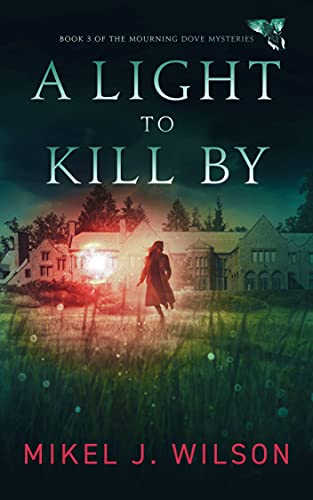 Moments after construction tycoon Blair Geister's death, a mysterious wandering light kills someone on her Southern estate. Is the avenging spirit of the millionairess on a killing spree, or are other forces threatening those in her inner circle? As the will is read, suspicion and jealousy arise, and fingers point to the heirs of her fortune. Private investigator Emory Rome and his Mourning Dove partners accept an invitation to stay at Geisterhaus and unravel its secrets before more lives are lost.


As with the previous books in this series, I quite enjoyed this. I did think it was perhaps not quite as elegantly plotted (with several instances of coincidental knowledge). Jeff came across not as the difficult character he's been, but as quite unlikable for some of the book. And Wayne's sudden change of heart was simply too sudden to be believed. But Emory is still a marvelous character. He pairs well with free spirited Jeff and Virginia. Plus, I'm super invested in figuring out the mystery of Phineas and of Emory's history. There are also several examples of genuinely good people, which is harder to come by than you might think. The writing is readable and the editing pretty clean. I'll be ready and waiting for book four, whenever it comes out.