I borrowed an audio version of Magic Thief, by C.C. Sommerly through Hoopla.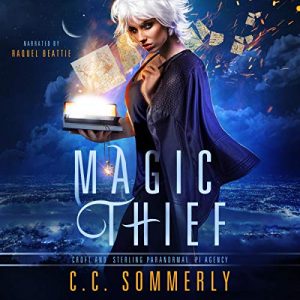 Stolen magical artifacts, missing girls, and a hot partner I don't want, what could possibly go wrong?
Paranormal Private Investigator (PI), Rayne Martin races against the clock to solve a case that is becoming more complicated by the moment. What started as a simple missing grimoire and stolen ancestral necklace has now morphed Into a potentially debilitating new reality for magic users.
Now, young women are missing. Others are turning up stripped of their magic and raving about monsters. Stealing magic once seemed inconceivable, but it is now a very real threat. It's up to Marty to find out who is stealing magic.
Just when she has things in-hand, a partner is forced on her. Marty never learned to work well with others, so this is the last thing she wants. He is a straight play-by-the-rules guy. There is no rule she wouldn't break. If they can't learn to work together, then they will fail.
When her closest friend is taken, time is running out for Marty and Lochlan to crack the case. If they can't find the magic thief, there may be nothing left of Marty's friend to recover.

This was a bit of a fail for me. It was almost something good, but just seemed to miss the mark. The writing was pretty good, but there were some continuity issues in the plot, quite a lot of pointless drama that just seemed like filler (I'm thinking of the whole trip with the bone man, for example), and what felt like missing bits. For example, two characters would have a conversation and one would react to something the other very obviously was meant to have said. Except, that the one hadn't said the thing being reacted to. The scene seemed to have a chunk missing from the middle. Then, later, the narrative would act as if the information hadn't been shared at all. It's hard to tell in an audio, when you're not looking at text. But I can only assume this is a matter of editing.
I did like the characters and the man theoretically being position as a love interest. Though I wouldn't say this is a romance, certainly none develops here. All in all, a pretty mediocre experience. I might be tempted to see if the next book gets better. But unless it does, I can't see continuing the series.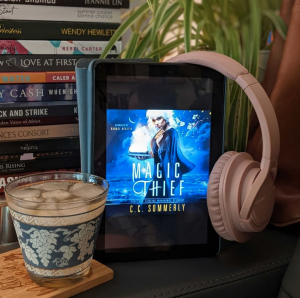 ---