I was given a free e-copy of Vicky Walklate's Sacrifice.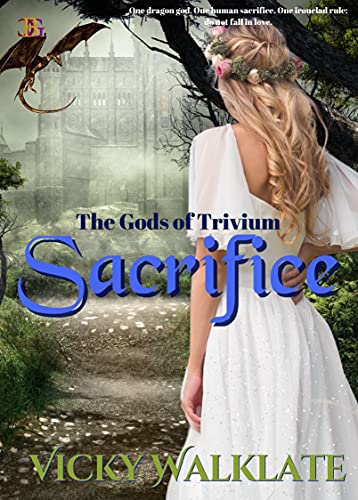 Dragon gods rule the realm, demons lurk in the shadows and a sorcerer hides a dangerous secret. A war is brewing in Jothesia, and the gods have no idea.
Being selected as human sacrifice to the immortal dragon shifters is supposedly an honor, but rebellious Libby doesn't see it that way. When the sacrificial ritual goes badly wrong, she finds herself in a reluctant alliance with eldest god Rhetahn. He's grumpy, cynical and utterly exasperating …and she can't get him out of her head.
Rhetahn knows there's something wrong with this sacrifice, and it's not just her infuriating stubbornness or the way she makes his jaded heart skip a beat. When misfortune befalls his brothers and renders him powerless, his only choice is to unite with Libby to seek answers.
Setting out on a dangerous quest across the realm, the compelling attraction between them is undeniable, yet doomed. To recover his magic, regain his strength and prevent the demons from seizing power, Rhetahn needs her blood. He must kill her at the end of their journey, even if it breaks his heart to do so.
But a terrible power lies hidden in Jothesia, one that could destroy everything the gods have built. Libby and Rhetahn's forbidden relationship may be the realm's only hope against utter ruin.

Don't judge a book by its cover, they said. It'll be fine, they said. I said when I started this book that I didn't care for the cover. But it has dragons in it, so I was going to give it a try. Having finished it, I can say that I didn't like the book any more than the cover. But I will say that the cover accurately describes the heroine's utter Mary Sue-ness to perfection.
This book was a great big fat MEH for me. It actually has an interesting world and lore. Unfortunately, what it ultimately is is a romance, and the romance FLOPPED. I mean splat, giant belly flop from the 15th floor flopped for me. Not only did I not enjoy the romantic aspect, but it also enraged me.
I understand that the author was trying to make her characters conflicted. They had a difficult thing to do. But the reality is that we had a 20-year-old virgin sacrifice being lusted over by a 3,000-year-old man who intended to kill her. And it is lust. He wants her body and the comfort a woman can offer him (and she's the only one there). And I'm supposed to make a romance out of that skeeviness? No, it 100% did not make that leap for me.
And then, once the plot had decided they were a couple (suspension of disbelief be damned), she because such a limp-wristed Mary Sue that I just couldn't even like her. All that backbone she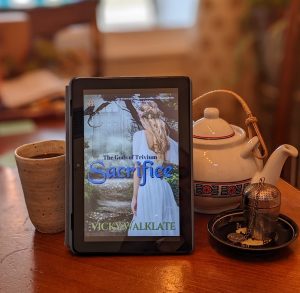 started with? Gone, evaporated by his male-ness, I suppose. The plot just became more and more predictable as time went on. Then, as I was warned it would, it ended on a cliffhanger.
All in all, I'm just glad to be done with it. The writing is well-edited and mechanically fine. Those who enjoy a clean romance and a Mary Sue (which some do) will likely enjoy this. I'm just not that reader.
---
Other Reviews:
Sacrifice by Vicky Walklate (The Gods of Trivium, #1) #BookReview #Fantasy #Romance @vwalklate