Author, Imogen Markwell-Tweed is a local-to-me author and on behalf of herself and co-author, Wendy Dalrymple, she sent me a review copy of Holiday Haunts last year. But it was past the holidays (if I remember correctly)…or maybe I just didn't get to it before the holidays. Regardless, that means I'm lucky enough to have it on hand for this year's Christmas reading challenge.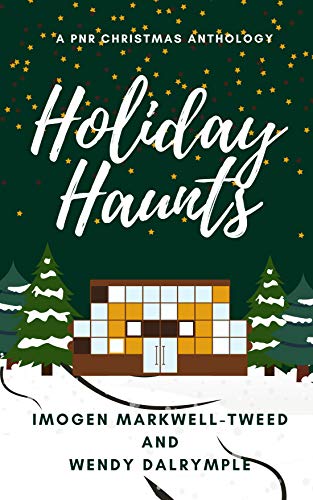 Christmas is the perfect time of year to fall in love; especially if you're a specter or a retail employee, that is. At Holiday Falls Mall, love blooms in sweet and spooky ways for four shop employees during the holiday season. This collection features two stories from queer romance writer Imogen Markwell-Tweed, and two stories from sweet romance writer Wendy Dalrymple for a unique, intertwined anthology of paranormal romance novelettes.

Of the four stories, I found that I enjoyed the Markwell-Tweed stories more than the Dalrymple ones. I thought Dalrymple's writing a little more pedestrian. But I also thought the two authors paired well together and none of the stories were bad. Some just worked more for me than others. Here are my brief thoughts on each individual stories, as I finished them.
Up to Snow Good
I thought this was super sweet. There was definitely some insider WLW humor. But being able to good-naturedly poke fun at yourself to an expected audience that can share the humor is a super relatable way to make something feel like a comfort read. It's only a short story, so nothing is deeply defined or elaborately developed. But there is just enough to make you like both characters and root for their happy ending.
Heavenly Reads
I also thought this a super cute story. Jesse's inner monologue had a lot of character and Angel fit his name. It was fairly obvious where the story was going, but it was fun seeing it get there.
Magic Mistletoe
I thought Nick's absentminded pleasant demeanor super cute and Paige's vegan, new age-ness suitably witchy. I like that the eventual age difference was of no concern. All in all a fine Christmas story.
The Assistant Manager and the Beast
Meh, I thought this the weakest of the bunch. I'm not saying it was bad; one of the four stories had to be bottom of the pile and this was the one for me. I really liked the idea of Krampus as a character, but nothing about Heidi stood out as notable for me. But it was a sweet story overall.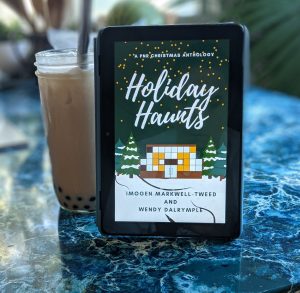 ---
Come back tomorrow. I'll be reviewing Christmas at Rosie Hopkins' Sweetshop, by Jenny Colgan.