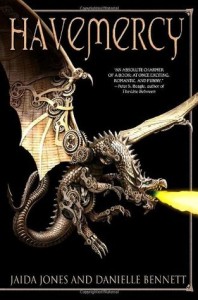 I borrowed Havemercy, by Jaida Jones & Danielle Bennett from my local library.
Description from Goodreads:
Thanks to its elite Dragon Corps, the capital city of Volstov has all but won the hundred years' war with its neighboring enemy, the Ke-Han. The renegade airmen who fly the corps's mechanical, magic-fueled dragons are Volstov's greatest weapon. But now one of its members is at the center of a scandal that may turn the tide of victory. To counter the threat, four ill-assorted heroes must converge to save their kingdom: an exiled magician, a naive country boy, a young student—and the unpredictable ace who flies the city's fiercest dragon, Havemercy. But on the eve of battle, these courageous men will face something that could make the most formidable of warriors hesitate, the most powerful of magicians weak, and the most unlikely of men allies in their quest to rise against it.
Review: *possibly spoilerish*
Magical clockwork dragons, ya'll! Magical clockwork dragons. There was no way I could pass this up once I'd discovered its existence and on the whole I really quite enjoyed it. I liked the writing style. I liked the characters…mostly. I liked the dragons. I actually liked that it had a rather slow start. On the surface, I even liked the ending.
What I didn't like was the ambiguity around aspects of the book that I would have really liked if I had just been sure of them. Was Balfour really trans or just a man teased as effeminate because he had better manners than the rest? Was Rook and Thom's love platonic or heading for romance? Did Hal and Royston ever consummate their relationship? Considering the book starts with a man in bed with his lover, I don't see why we aren't given any sort of closure on this point. When it comes to romance I feel like the book set us up for two great loves and fails to deliver either as promised.
As an aside, though not uncommon in fantasy, I have to ask, where are all the women? There are a few minor mentions of female characters, but nothing more. But for all my remaining questions, I finished the book happy.