I received an e-copy of Josh Lanyon's Murder at Pirate's Cove through Netgalley.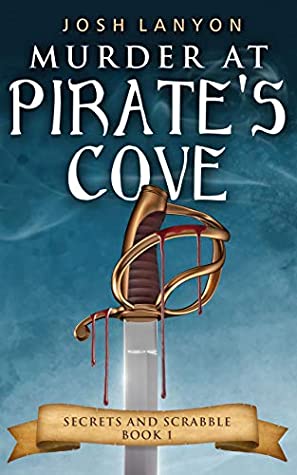 Description from Goodreads:
Ellery Page, aspiring screenwriter, Scrabble champion and guy-with-worst-luck-in-the-world-when-it-comes-to-dating, is ready to make a change. So when he learns he's inherited both a failing bookstore and a falling-down mansion in the quaint seaside village of Pirate's Cove on Buck Island, Rhode Island, it's full steam ahead!

Sure enough, the village is charming, its residents amusingly eccentric, and widowed police chief Jack Carson is decidedly yummy (though probably as straight as he is stern). However, the bookstore is failing, the mansion is falling down, and there's that little drawback of finding rival bookseller–and head of the unwelcoming-committee–Trevor Maples dead during the annual Buccaneer Days celebration.

Still, it could be worse. And once Police Chief Carson learns Trevor was killed with the cutlass hanging over the door of Ellery's bookstore, it is
Review:
I quite enjoyed this. I didn't guess the murderer until 90%. The romance is such a slow burn that it doesn't even culminate in this book, though it's quite obvious that it's coming. (For the record, I wouldn't call this an M/M romance. Rather, I think it is a cozy mystery that just happens to have a gay protagonist.) The writing is clean and readable and I didn't notice any particular editing problems. What's to complain about?