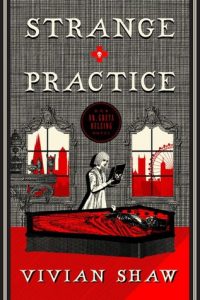 I borrowed a copy of Strange Practice
, by Vivian Shaw, from my local library.
Description from Goodreads:
Greta Helsing inherited the family's highly specialized, and highly peculiar, medical practice. In her consulting rooms, Dr. Helsing treats the undead for a host of ills – vocal strain in banshees, arthritis in barrow-wights, and entropy in mummies. Although barely making ends meet, this is just the quiet, supernatural-adjacent life Greta's been groomed for since childhood.
Until a sect of murderous monks emerges, killing human and undead Londoners alike. As terror takes hold of the city, Greta must use her unusual skills to stop the cult if she hopes to save her practice, and her life.
Review:
This was one of those books I generally enjoyed, then say back and thought about and decided I had a problem with it. I'll start with what I enjoyed. I thought the vampire mythos was interesting, as was the idea of a supernatural doctor (that's a doctor to the supernatural, she's not herself supernatural). There was quite a lot of humor and the writing is pretty good. All in all, enjoyable.
But…BUT it's just so classically and problematically male. It's a Greta Helsing novel, granted, but why is she essentially the only female? The gang was comprised of Greta, two vampires, a demon and a research fellow. There just isn't any reason at least one of those couldn't be a woman. But no, Greta is surrounded by, taken care of by and takes advice from only men. At least one of which (the one she's attracted to) thinks it's not really appropriate for a woman to be a doctor. She's constantly wishing for her father and his advice, her mother wholly absent. (I can't remember if it even said how she, presumably, died.) Even the villain's henchmen are all male. Why do authors (especially female authors) keep leaving women out of their worlds? Here, I noticed it and as the book went on it just got more and more noticeable and more and more irritating. Because the series may be named after Greta, but it's a book about the men around Greta. Bah! Forget that.