I borrowed and audio copy of Stephen Spotswood's Fortune Favors the Dead through Hoopla. It was narrated by Kirsten Potter.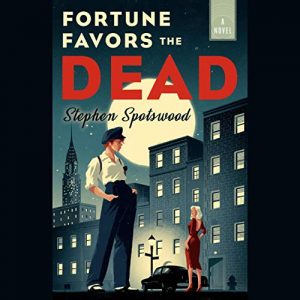 Introducing Pentecost and Parker, two unconventional female detectives who couldn't care less about playing by the rules, in their cases and in their lives.
It's 1942 and Willowjean "Will" Parker is a scrappy circus runaway whose knife-throwing skills have just saved the life of New York's best, and most unorthodox, private investigator, Lillian Pentecost. When the dapper detective summons Will a few days later, she doesn't expect to be offered a life-changing proposition: Lillian's multiple sclerosis means she can't keep up with her old case load alone, so she wants to hire Will to be her right-hand woman. In return, Will will receive a salary, room and board, and training in Lillian's very particular art of investigation.
Three years later, Will and Lillian are on the Collins case: Abigail Collins was found bludgeoned to death with a crystal ball following a big, boozy Halloween party at her home–her body slumped in the same chair where her steel magnate husband shot himself the year before. With rumors flying that Abigail was bumped off by the vengeful spirit of her husband (who else could have gotten inside the locked room?), the family has tasked the detectives with finding answers where the police have failed. But that's easier said than done in a case that involves messages from the dead, a seductive spiritualist, and Becca Collins–the beautiful daughter of the deceased, who Will quickly starts falling for. When Will and Becca's relationship dances beyond the professional, Will finds herself in dangerous territory, and discovers she may have become the murderer's next target.

I really quite enjoyed this. You've got quite a few sorts of women who don't often get lead billing making decisions and effecting change. There's the bisexual assistant private detective and POV character, the elderly lead detective with Multiple Sclerosis, the lesbian possible love interest, the impoverished woman taking charge of her life, the mousey professor who may be more than she seems, the talented scam artist, etc. Women not only exist in this novel, they excel (not always for the betterment of mankind, but they still refuse to sit back and passively exist). I adored that about it.
I wasn't super shocked to discover who the murder turned out to be, but more in a 'where is the eye not turned' kind of way than a 'the foreshadowing gave it away' way. I had no "I know who it is moment," so, I got to the pleasuring of not knowing, but also no shock of never seeing it coming because it's too out of left field. It's a good balance to end a mystery with, "Oh yeah, I can totally see that," than either "I knew it" or "no way, you just made that up."
The story's narrator, Will, has a marvelous voice and sense of humor. The writing is sharp and the audiobook is well done. I'll be looking for more of the Pentecost and Parker mysteries.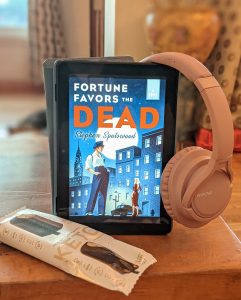 ---
Other Reviews: