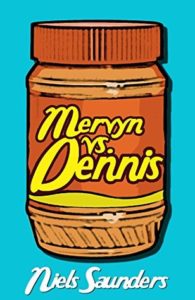 Author, Niels Saunders sent me an ecopy of Mervyn vs. Dennis for review.
Description from Goodreads:
Deep in debt, Mervyn Kirby gets a job he doesn't want by pretending to be racist. His new boss Dennis Lane thinks he's found a kindred spirit. When Mervyn confesses he's not really racist, Dennis thinks it's just part of the act. Day by day, to Mervyn's horror, Dennis worms his way into Mervyn's private life. Despite his fears, Mervyn is torn: his new job pays well but he despises Dennis and everything he stands for. How far will Mervyn go to free himself? How far will Dennis go to become friends? Will they settle their differences or end up killing each other? And why are so many shifty people carrying pineapples around town?
Review:
Man oh man, that was horrible in the best way possible. I mean, there's racism, sexism, abuse, orgies, drugs, alcoholism, multiple sanitation and mental health issues, and a gross misuse of tropical fruit. But most of the really objectionable stuff, like having to read several diatribes against minorities, is an active engagement of the subject. The reader never loses sight of the fact that the main character is as disgusted as the reader. And for all it's in-your-face xenophobic wretchedness the book is genuinely funny.
My criticisms are that it's heavy on bathroom humor at times and I'm not a huge fan of including the writing of the book in the narrative of the book. But in the end, I was really pleased with this read.