I purchased an e-copy of Amanda Milo's Contagion.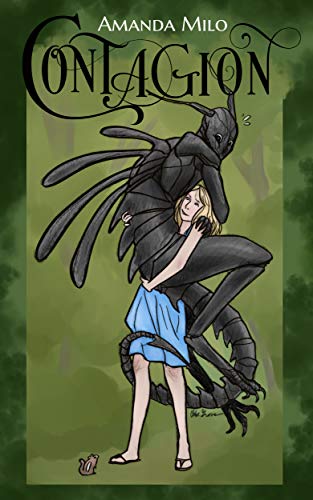 One OCD neat freak alien.
One human woman.
Both are abducted and held captive in a very unsterile environment.
What more could go wrong?
Simmi: I've broken free and I've also freed the human who was held captive with me. But I don't know where we are, and I don't know where my home is. The local wildlife may be smaller than I am, and maybe they don't have fangs near as large as mine, but I'm still terrified. My issues with germs–and my uncompromising avoidance of all the things that I'm afraid of coming into contact with–is going to get me killed in this wilderness.
Thankfully, Aurora lets me follow her.
Thankfully, she seems to know the way out of this endless and inhospitable woodland and desert biome.
But by the end of our journey, she'll suspect she's harboring a contagion. I have no way to know it, but she's afraid to tell me. Afraid of how I'll react once I find out what she's carrying.

I have forgotten who recommended this to me. I probably saw it on Tiktok. I wish I could remember though, because I'd like to thank them. This was a joy to read. Simmi is just so very himself in every way, but all of those ways are courteous and self-aware. He's hilarious and kind. Meanwhile Aurora is steadfast, patient, and willing to look past Simmi's frightening exoskeleton.
It wasn't a perfect book for me though. As much as I loved all of Simmi's neuroses it was a bit of a one trick pony and I did find myself tiring of it toward the end. And I didn't realize when I picked it up that it is actually a second book in a series. So, I felt like I was missing out on book one. (That's not the book's fault, of course.) All in all, however, I'll be looking for more of Milo's work.
---
Other Reviews: