I picked up a freebie copy of Rowan Merrick's Tentacles and Teeth on Amazon.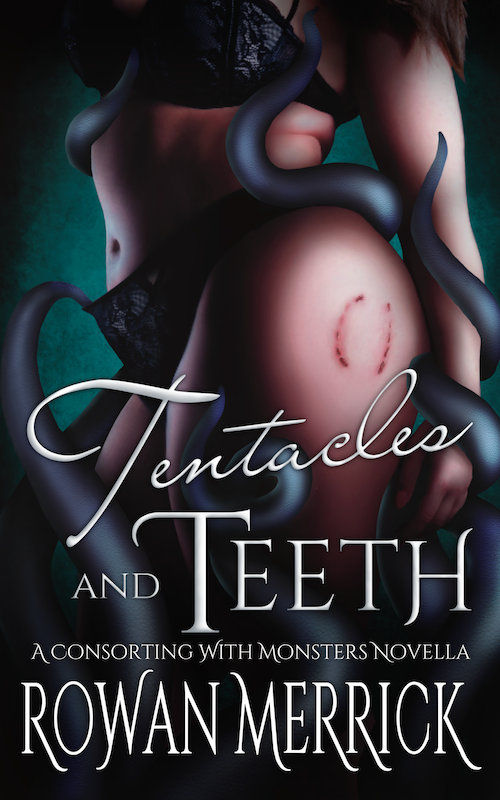 Katarina was only looking for one night.
An evening of no-strings fun with someone who knew what they were doing and wasn't afraid of getting a little wild. One look at the gorgeous bartender with the midnight skin and waving tentacles, and she knew she needed to feel all those…appendages wrapped around her before the night was out. Lucky for her, the bartender was a woman who went after what she wanted, and oh, did she want.
More wasn't on the table.
But when Katarina wakes up the next morning not only still desperate to touch her, but also talk to her, she's forced to reevaluate. Maybe a relationship wouldn't be so bad?
Especially a naked werewolf before coffee.
Running into her maybe-more-than-a-one-night-stand's roommate in the hall was yet another thing she wasn't prepared for. It might have helped if she wasn't still reeling from the night before. Or if he hadn't been completely nude. Or so…sexy. She wasn't in the market for one relationship, much less two. But they were both so tempting…
Can she finish her plate? Or did she bite off more than she can chew?


This was porn with—
No, it's not porn with plot. It's just porn. I went in expecting porn with plot, but there's no real plot to speak of. Don't get me wrong. I'm not complaining; just want us all to be clear on what we're dealing with. Porn. Tentacle and monster porn.
All in all, I enjoyed it. I appreciated the confident, business-savvy, successful, size 16 heroine. I've read far too few porny books with a lesbian in the poly group. That was a pleasant surprise. The writing is quite body and sex-positive, as well as careful about consent…for the most part. I honestly think Fenn's behavior once he entered the mix undermined a lot of work the book did in this department. (Plus, it didn't really match his character outside of sexy times.) But they did discuss consent, so it's more a quibble than a criticism. Similarly, Fenn and Sid were respectful of Katarina throughout the book, only for Merrick to reduce her to the status of toy as soon as the trio interacted with even the first supernatural. Which, again, undermined a lot of the work Merrick had already put into establishing equality in the relationship.
Regardless, it's spicey fun, and I don't regret reading it. Plus, I love the cover.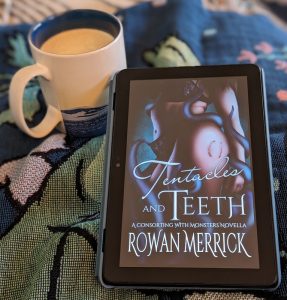 ---
Other Reviews:
Wondra's World: Book Review Tentacles and Teeth