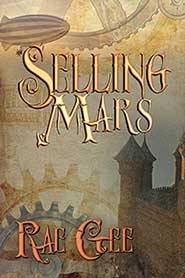 Author, Rae Gee, sent me a copy of Selling Mars. It is the continuation of the Veetu Industries series, which I started in July. You can see the review of book one, Mars on the Rise, here.
Description from Goodreads:
Though executed for crimes against his own people, his body was never recovered, and a strange, coded note leads Cedo and Billy to believe he may still be alive. Following the clues, they head into untold dangers as they cross Europe and enter the secretive Dynasty. Captured by the country's brutal president, they find themselves trapped in an underground prison with no possibility of escape. Pitched against a world they could never have imagined, Cedo and Billy find themselves battling not only with a world which wishes them dead, but also against one another. Faced with a world on the brink of war and a barrage of deadly machines, they learn about the true meaning of love, life and freedom. Yet what else will they discover? Will they find Erus? More importantly, will they escape with their lives? 
**slightly spoilerish review**
What to say about Selling Mars? Once again Rae Gee has proven that she can produce poetic prose and string them together into a book. Her writing is beautiful and it strikes just the right tone for a steampunk tome. The phrases are just far enough off of the norm to sound right, if you know what I mean. Despite all of that I wasn't happy with the book. This is not a actual indictment of it, just a personal response to the story. I couldn't understand Cedo at all. If he loved Billy, but was contractually abliged to Erus I would get it. Or if he loved Erus and was just using Billy, I would get it. But he was supposed to truly love them both. Uh-uh, not feeling that. I wanted to cry for both of them (Erus & Billy). Both deserved better. This isn't to suggest that I didn't like Cedo. I did, just not the situation all of them seemed to pretend was doable. The sex is a lot more explicit than in Mars on the Rise, which is fine as long as you know what you're in for. This is an M/M romance (or almost more of an M/M/M romance). It is steamy. Don't let it surprise you.
The book did addresses Cedo's delicate manner, which I felt was needed after the end of the first one. It helped to understand how someone as guileless as him had survived in the big bad world. It also explained a lot about him and his personality. I appreciated this. I also appreciated Billy. I'm not saying I appreciated his personality, or his looks, or his actions. I just appreciated Billy. He was wonderful in every way possible. If the world had more Billies in it we would all live longer, happier, healthier lives. I'm not completely sure Cedo deserves him. I did get a little tired of all the affirmations though. I lost count of how many times they thanked each other. That just leaves Erus, the errant Master. I've always liked Erus, despite his cruelties and that didn't change here. But I found it really hard to see his proud demeanour tarnished. It grated on me, as I'm sure it was meant to. I look forward to his redemption.
The book seemed to leap from emotional upheaval to emotional upheaval and then ended on a serious cliffhanger. Never pleasant when the next isn't available yet. But it is a worthy continuation of the Veetu Industries saga.