I first came across The Moreva of Astoreth (The Peris Archives Book 1), by Roxanne Bland, because it featured on Sadie's Spotlight. When I later saw it available on Netgalley, I decided to give it a read and requested a copy.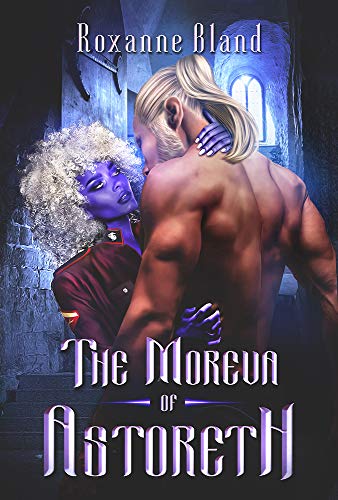 In the service of the Goddess…
Moreva Tehi, gifted scientist and the spoiled, stubborn and headstrong granddaughter of Astoreth, the Devi Goddess of Love, deliberately misses Ohra-Namtar, the compulsory and holiest rite of the Great Pantheon of Gods.
For her sin, Astoreth banishes her for a year from her beloved urban desert home to tend Her spaceship landing beacon in the northern reaches of the Syren territory, a cold, dark, and wild place whose inhabitants are as untamed as the territory in which they live.
As the spiritual leader and commander of the military garrison stationed there, Tehi must stay one step ahead of the cunning machinations of her second in command. But there is one who poses an even greater threat to her future—one who will lead her into the dangerous realm of forbidden love, setting them both on a course that can only lead to damnation and death.

I really wanted to like this book. If anyone has been paying attention to the sci-fi romance genre over the last few years, there are an awful lot of hulking, male, blue aliens. (I even wrote a whole blog post about it once.) It was notable to see the blue alien as the female for a change. Plus, I could see that the author was trying hard to subvert some literary tropes and social norms that I love seeing subverted. Unfortunately, I don't think she was wholly successful. Here's an example.
The main character is a priestess and her vestments are what many today would consider the clothing of prostitutes (tight, short dresses, corsets, garters, high heels and a riding crop). One of the regular religious ceremonies is an orgy. This could have been written to empower women in both their clothing choice and their sexuality. I think it maybe was even supposed to. Unfortunately, Bland then created a main character who hated the rite, showing her to panic and try and fight her way out of her obligated orgies. Thereby undermining any empowerment she may have created and reducing the character again to a woman performing unwanted sexual acts, i.e. The Whore.
As a side note: no reason is given for this particular choice of religious uniform (other than that the goddess liked it) and, since there are both male and female Moreva, I couldn't help but wonder if the male Moreva also wore corsets, short/tight dresses, garters, and high heals and were the epicenter of 20+ person orgies. It's never discussed, but I rather hope so.
My main complaint however is that there is barely a story here. We're told the main character is horribly bigoted. The plot is supposed to hinge on it.  But we never see it. In fact, she befriends one of the people she's supposedly so bigoted against almost immediately and treats him as an equal, submitting herself to his instruction and offering her assistance from almost the moment they meet. I never felt her bigotry, but I was told about it regularly. Similarly, the reader is subjected to several context-less dream sequences in which she symbolically fights said bigotry, but we never see her making real world changes to her behavior (as it never appeared bigoted to start with). And lastly, the romance comes out of no where. The reader is told about it, but I didn't feel it develop even a little bit. There's a predictable twist at the end and then it all wraps up almost miraculously.
All in all, I felt that despite good intentions and even an interesting idea for a world, the whole thing just never developed into anything I enjoyed spending time with. I was honestly bored most of the times. The writing is perfectly readable though, and I had no issue with the editing (even though I read an ARC). I think I'd be willing to give a Bland book another chance. She can obviously write, but this particular book wasn't a winner for me.