I accepted a review copy of Karley Stafford's Dark Fate as part of it's book tour with Literary Book Tours. It was also featured over on Sadie's Spotlight, earlier this year. So, you can hop over there for further information.

I am the alpha's daughter, the alpha apparent, heir to our pack. A position I never wanted. I wish I could relinquish it to Cole, my shadow and second. But my father would be devastated, and the pack would surely ostracize me.
My world goes to hell when my father makes a deal with the Cavell Wolves, known widely for their cruelty. The deal in which I will marry Jasper, the heir to the savage northern pack. The last thing I need is a male to be by my side to become the Alpha my father raised me to be. What he doesn't know, I'm already in love with a witch whom I would burn the world down for.
After a night gone wrong, betrayed by someone I trust, I find myself at the mercy of Marrock, my heinous father-in-law-to-be. Learning first hand of the atrocities he's willing to commit to get what he wants. But I will not let him break my spirit.


I think that the best I can say for Dark Fate is that it was OK. Now, it was OK. I'm not saying it was bad. The writing was clean and easily readable. There's clear plot progression and I liked the characters. But it's all about as subtle as a sledge hammer to the head in almost every regard.
The cataclysm was set in motion because the characters just yelled at one another with no actual communication. The main character got angry and stormed around constantly, showing absolutely no capacity for deeper or varied thought. The 'loves' were entered into/dismissed all but instantly. The sex scenes with the male characters were blunt affairs that, while not bad, didn't fit either the places in the book they existed or were the sort of sex to fit the situation or characters (either of them). The betrayal didn't feel believable, based on the character up to that point or the other coven members after the fact. (And it was a huge missed opportunity to explore several themes that would have added depth and color to the narrative.) The loss that prompted the attitudinal shift in the main character was over the top for what was needed and wasn't built up to at all. The villain was a generic sexual sadist with no shades grey. And overcoming him happened so easily that one has to wonder why anyone even hesitated to take him on, leading to the events of the book.
Speaking of events leading up to the conclusion—and this is spoilery, be warned—Stafford at no point acknowledges (or even seems to notice) that for all the tragedy and death, or the importance put on how the main character wouldn't bend to the will of another, etc. She ended up doing 100%, exactly what was wanted from her to begin with, mating Jasper. One conversation with…damn near anyone and there could have been a resolution. (And no, that wasn't the point.)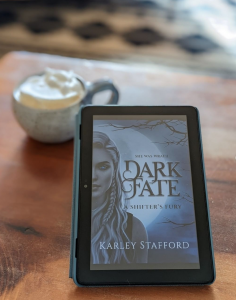 Having said all that. I think it's all just basically the foibles of a first book. Stafford shows a lot of potential here and I'd read another of their books. The only real, rage inducing complaint I have that I won't chalk up to First Book Syndrome is what I deem queer baiting in the first quarter of the book. While I appreciate a bi-sexual/pan-sexual heroine and there was actually F/F sex, this was ultimately a MFM menage book and, to me, the F/F start felt like baiting because of how it all worked out by the end. (Though it does very narrowly avoid the Bury Your Gays trope.)
So, all in all, I'm calling this OK. I don't discourage anyone from picking it up. But I also don't suggest diving in expecting a well fleshed out masterpiece.
---
Other Reviews: